Providence Upends Maine, 4-2
Laura Veharanta scores her fifth and sixth goals of the season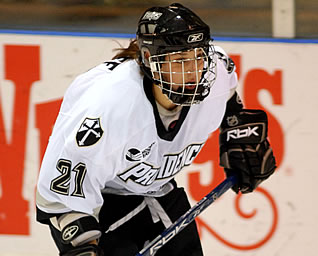 Alyse Ruff scored a goal for the Friars
Providence, R.I. - The Providence College women's ice hockey team earned it's second Hockey East victory of the season as they defeated the University of Maine, 4-2. The Friars put over 50 shots (51) on goal for the first time since shooting 65 on net in a 7-2 victory over Maine on December 1, 2007. Providence improves to 3-5-0 (2-2-0 Hockey East), while Maine falls to 2-6-0 (0-2-0 Hockey East).
The Friars were able to control the first period and pepper Maine goaltender Genevieve Turgeon from the opening face-off. Alyse Ruff (Tualatin, Ore.) put PC on top at 11:42 as the Friars were on the power play. Ruff received a pass from Amber Yung (Rockville, Va.) before burying her third goal of the season. Junior defenseman Colleen Martin (Woburn, Mass.) also earned an assist on the play.
Just two minutes later, Providence earned another man advantage and power play specialist Veharanta made sure to capitalize. Senior Erin Normore (Cambridge, Ontario) slid a pass to captain Brittany Simpson (Barrie, Ontario) on the blue line who immediately fired the puck through the slot to a waiting Veharanta who lifted the puck over the right shoulder of Turgeon for her fourth power-play goal and fifth goal of the season overall.
At the end of one period, Providence held a commanding edge in shots, 16-3, and was 2-3 on the power play.
Veharanta would tally her second goal of the game and sixth overall at 12:05 of the second stanza. Classmate Ashley Cottrell (Sterling Heights, Mich.) stick-handled through the Maine zone before putting a back handed shot on net. Turgeon made the save but Veharanta positioned herself inside the Black Bear defender and put home the rebound to put Providence up for good.
PC went into the locker room ahead, 3-0, and senior netminder Danielle Ciarletta (Blaine, Minn.) was only called into action eight times in the two periods. The Friars held the advantage, 31-8, in shots.
Providence added another goal when Normore picked up a loose puck in the neutral zone before firing a wrist shot past Turgeon for her first of the season. Maine would add two power-play goals to close the gap (4-2) but it wasn't enough as the Friars earned their second Hockey East victory of the season.
Ciarletta finished with 22 saves to earn her first conference victory as she improves to 1-2-0 overall and 1-1-0 in Hockey East play. Turgeon denied 47 shots but falls to 1-6-0 overall and 0-2-0 in conference action.
The Friars return to action Saturday, November 1 when they travel to Boston to take on the Terriers of Boston University. The game will be played at 3:00 p.m. in Agganis Arena, home of the 2009 Frozen Four.