Saturday, September 27, 2008
MAINE TOPS PRINCE EDWARD ISLAND, 6-3
Five Black Bears post at least three points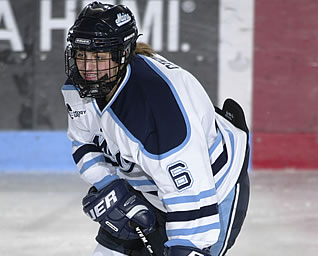 Amy Stech had a goal and three assists for Maine
Orono, Maine - The University of Maine women's ice hockey team won 6-3 against the University of Prince Edward Island in a pre-season exhibition game. The Black Bears found themselves down 2-1 halfway through the second period before junior forward Lexie Hoffmeyer (Grand Blanc, Mich.) scored the first of three straight Maine goals in seven minutes. The Panthers scored one more in the third, but the Black Bears answered with two of their own to seal the game. Hoffmeyer and freshman forward Myriam Croussette (Baie-Comeau, Quebec) led Maine with two goals and one assist each.
Maine totaled 53 shots on goal, keeping the puck in their opponents zone and holding Prince Edward Island to only 16 shots on goal. Contributing to the Black Bear attack, junior forward Amy Stech (Duluth, Minn.) had one goal and three assists. Junior forward Abby Barton (Woodstock, New Brunswick) also had a big day with three assists. Maine controlled the puck throughout, winning the faceoff battle 42-18 and limiting their mistakes with a smart passing attack.
The Black Bears will kick off the regular season Friday, Oct. 3rd at 7 p.m. at home in the Alfond Arena against North Dakota.