NORTHEASTERN DEFEATS MAINE, 4-1
Julia Marty scores first career hat trick for Huskies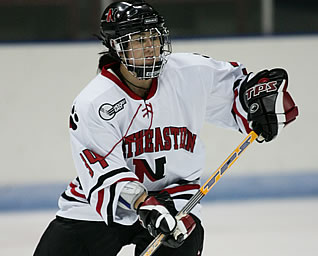 Kristi Kehoe notched her team-leading seventh goal
BOSTON, Mass. - Julia Marty notched her first collegiate hat trick and Kristi Kehoe notched her team-leading seventh goal to lead Northeastern to Sunday afternoon's 4-1 win against Maine at Matthews Arena.
Northeastern improved to 6-1-2 overall, and 3-1-0 in Hockey East with a 4-1 win over Maine Sunday at Matthews Arena.
Northeastern's Kristi Kehoe struck first at 2:55 in the first period, when she took a pass from Stephanie Gavronsky and beat Maine goalkeeper Genevieve Turgeon on a short-range shot. Maine responded just 12 seconds later when Jordan Colliton go on the end of a lose puck and fired it past NU goalie Florence Schelling from right in front of the net.
Julia Marty broke the 1-1 deadlock early in the second period. With NU on the power play, Marty took a pass at the right point, skated into a gap in the defense, and fired a wrist shot past Turgeon into the upper left corner. The goal was Marty's first of the season. She got her second goal at 17:02 in the second when she corralled a loose puck at center ice, carried it into the Maine zone, and beat Turgeaon from close-range.
Marty extended the lead and put the game out of reach midway through the third period when the NU power-play capitalized on a five-on-three situation. Ali Bielawski had the puck on the right post, and passed to Alyssa Wohlfeiler at the top of the crease. As the defense collapsed on her, Wohlfeiler sent a quick pass to Marty on the opposite post, who fired it into the open net before Turgeon could get there.
The hat-trick is the first of Marty's career, and with it she has already matched her goal and point totals from last season, when she played with New Hampshire.
The Huskies play on the road for the remainder of 2008, returning to Matthews Arena January 2nd to take on Yale.