Saturday, February 28, 2009
PROVIDENCE TOPS CONNECTICUT IN WHEA QUARTERFINALS, 3-0
Genevieve Lacasse posts shutout with 18 saves for Friars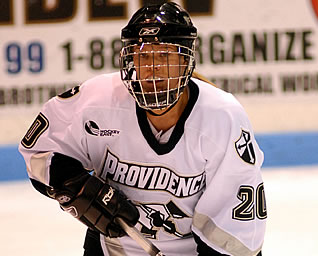 Mari Pehkonen had a goal and an assist for PC
PROVIDENCE, R.I. - The Providence College women's hockey team used three different goal scorers, while freshman goalie Genevieve Lacasse (Scarborough, Ont.) made 18 saves en route to a 3-0 victory over Connecticut on Saturday, February 28 in a Hockey East Quarterfinal game played at Schneider Arena. With the win, the Friars (17-15-3) move on to the league semifinals which will take place on Saturday, March 7 at the Whittemore Center in Durham, N.H. The Huskies close out the season with a 19-12-4 record.
OTHER LINKS: Bob Deraney Audio (mp3)
Providence wasted little time taking a 1-0 lead as freshman Laura Veharanta (La Verne, Calif.) scored her team-leading 16th goal of the season just 14 seconds into the game. The Friars controlled the opening faceoff and senior Mari Pehkonen (Tampere, Finland) skated down the left wing before slipping a pass to Veharanta, whose initial shot was turned aside by UConn goalie Alexandria Garcia. However, Veharanta pounced on the rebound right in front to notch her 30th point of the season.
The Friars finished with an 11-4 shot advantage and had three power-play chances in the second period, but could not add to their lead. The Huskies had two-power play opportunities, but could not convert. The Friars increased their lead to 2-0 at the 10:10 mark of the third period as sophomore Alyse Ruff (Tualatin, Ore.) potted her 10th goal of the season. Senior Erin Normore (Cambridge, Ont.) gained possession of the puck, skated behind the UConn net and came to the right circle before slipping a pass in front to Ruff whose high wrist shot beat Garcia to the glove side.
UConn's best chance to score came with 3:19 left in the third period when Dominique Thibault had a breakaway, but Lacasse made a glove save to preserve the shutout. It marked her sixth shutout of the season. Pehkonen netted an empty net goal to finish the scoring. It was her 11th of the season. Garcia finished with 20 saves.
Providence will face New Hampshire in the Women's Hockey East semifinals next weekend at the Whittemore Center in Durham, N.H. Game time is set for 12 p.m. Tickets for the 2009 Women's Hockey East Championship may be purchased through the Whittemore Center Box Office, by calling 603-868-7300 or by logging on to www.unhwildcats.com. Student from Hockey East schools are eligible for a complimentary ticket, with a valid student ID, at the box office on game day.