THIBAULT, WILSON LEAD UCONN PAST NORTHEASTERN, 4-0
Dominique Thibault notches hat trick; Brittany Wilson posts shutout with 20 saves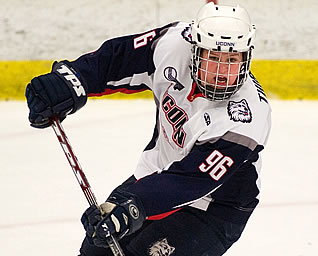 Dominique Thibault picked up a hat trick for UConn
STORRS, Conn. (Jan. 23, 2009) - Dominique Thibault (L'Orignal, Ont./Montreal Axion NWHL) recorded a natural hat trick on Friday night for her second career hat trick. Thibault led the University of Connecticut women's ice hockey team to a 4-0 victory against Northeastern at Mark Edward Freitas Ice Forum.
Thibault is just the second Husky player to record more than one hat trick in her career. Current assistant coach Jaclyn Hawkins finished her career with five hat tricks and the duo is among nine Connecticut players to have at least one in their career.
Brittany Wilson (Nepean, Ont./Ottawa Inter. AA) made 20 saves for her fourth shutout of the season. Friday night's shutout was the third over a Hockey East team this year and extends the Huskies conference winning streak to five games.
The UConn team captain scored in quick succession in the first period tallying her first goal at 9:20 and then following with another on the power play just a minute and a half later. Michelle Binning (Oshawa, Ont./Toronto Jr. Aeros Inter.) and Jennifer Chaisson (Cumberland, Ont./St. Peter Catholic) assisted the first Connecticut goal. On the power-play, Jody Sydor (St. Alberta, Alta.) upped her assist total to 15 while Amy Hollstein (Pembroke, Mass./Lawrence Acad.) had the other assist.
After twenty minutes of play, UConn led the other Huskies 2-0. Thibault increased the margin with her second power-play goal of the game at 8:38 in the second period.
After forty minutes of play, the Connecticut Huskies were outshooting the Northeastern Huskies 30-15. The final margin in shots favored UConn 38-20.
In the third period, Hollstein went in alone on Northeastern's Leah Sulyma and gave UConn a 4-0 lead with just over 15 minutes remaining in regulation. Cristin Allen (Pickering, Ont./Durham Lightning AA) assisted Hollstein's 10th goal of the season.
Allen and Sydor now co-lead the Huskies in assists, each tallying 15.
With the win, UConn improves to 16-6-2 overall and 8-4-0 in the Hockey East. Northeastern now has an overall record of 10-11-2 and a conference mark of 5-7-0. The two teams conclude the regular season series with a 3 p.m. face off at Matthews Arena on Saturday afternoon.
Game Notes
- This is the 11th consecutive game that UConn has scored on the power play and the eighth time this season that the Huskies have scored two power-play goals in one game.
- With the assist tonight, Amy Hollstein matched her season scoring outputs in each of her previous two seasons. As a freshman and as a sophomore, Hollstein recorded 22 points the entire year. Hollstein now has 23 points this season after recording a goal and an assist tonight.
- In 2005, two of Jaclyn Hawkins hat tricks happened against Northeastern. Hawkins recorded a hat trick on Jan. 29 and Feb. 26 against the other Huskies of the Hockey East.