Saturday, October 4, 2008
CONNECTICUT DEFEATED BY MINNESOTA STATE, 4-2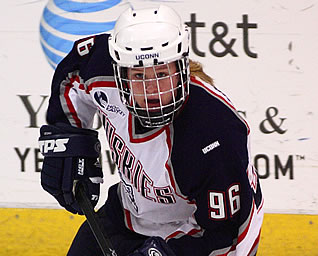 Dominique Thibault scored her fifth goal of the season
Manakto, Minn. (Oct. 4, 2008) - Three second period goals by Minnesota State-Mankato resulted in the University of Connecticut women's ice hockey team's first loss of the season. The Huskies fell 4-2 in their second game at All Seasons Arena on Saturday evening.
UConn opened scoring with Sami Evelyn (Nepeon, Ont.) scoring the first goal of her career. Rebecca Hewett (Oak Bluff, Man.) and Monique Weber (Rogers, Minn.) added the assists on the even-strength goal at 14:26 in the first period. The Huskies registered 15 shots on Maverick netminder Alli Altmann, out shooting MSU 15-7 in the first twenty minutes of play.
Kala Buganski opened scoring for the Mavericks for the second night in a row with a goal early in the second period (1:36) to tie the game (1-1). Emmi Meinonen followed with a power-play goal at 10:42 and Lisa Edman scored the eventual game winner at 18:26 in the second period. After forty minutes of play, MSU (1-1) led 3-1.
Dominique Thibault (L'Original, Ont.) scored her second power-play goal in as many games just under the thirty-second mark of the third period. Cristin Allen (Pickering, Ont.) had the assist as the Huskies (2-1) capitalized on the five-on-three opportunity.
Last in the third period, Christina Lee scored an unassisted goal to give the game its 4-2 final.
In the game, UConn out shot MSU 32-29, while each team scored one power-play goal. Brittany Wilson (Nepean, Ont.) made 25 saves in the Huskies' first loss of the season.
UConn continues the season at home on Friday, Oct. 10 when women's ice hockey returns to Mark Edward Freitas Ice Forum to take on Colgate at 7 p.m. The weekend continues for the Huskies the following night (Oct. 11) when they host St. Lawrence for a 4 p.m. game.
Game Notes
- Cristin Allen has assisted at least one goal in each game of the regular-season, including recorded two assists against Sacred Heart (Sept. 27) and in the Huskies' first game against MSU on Oct. 3.
- Dominique Thibault has scored at least one goal in each game this season, including a pair of power-play goals against the Mavericks. With one in Friday's game and another on Saturday, Thibault leads the team with two this season. She finished with a team best six power-play goals last season.
- All four freshman skaters who have seen game action this year have scored at least one goal. Sami Evelyn recorded her first tonight while Jaclyn Camardo, Rebecca Hewett and Monique Weber all scored in their first college game (Sacred Heart; Sept. 27).