Saturday, November 29, 2008
VERMONT TOPPED BY CLARKSON, 4-2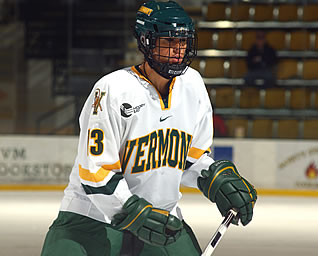 Teddy Fortin scored one of the Vermont goals
POTSDAM, N.Y. -- Clarkson's Juana Baribeau scored four times as the Golden Knights held off a late Vermont comeback effort to record a 4-2 victory in women's college hockey at Cheel Arena Saturday afternoon. Vermont falls to 3-10-1 with the defeat in the non-conference contest while Clarkson (7-5-3) remains unbeaten in its last five games.
A goal by Peggy Wakeham (Bay Roberts, Newfoundland) midway through the second period made it a 2-1 contest before Baribeau's third of the afternoon just less than two minutes later gave the ECAC Golden Knights a two-goal cushion. Baribeau capped her stellar performance with an insurance tally 5:31 into the third period.
"I give our team credit for not giving up after the early deficit against a pretty good team," said Vermont coach Tim Bothwell. "We hustled to come up with a lot of loose pucks to keep ourselves in the game. Too often, we turned the puck over in our end and at at mid ice, from the top of the circles to the red line, so we couldn't make good changes and generate offense. If we clear that up tomorrow and keep winning the little battles, we have a chance to win the game."
Wakeham's goal, her second in as many games and third of the season, came on assists from Saleah Morrison (Selkirk, Manitoba) and Brittany Nelson (Shelburne, Vt.). Teddy Fortin (Brunswick, Maine) closed out the scoring for the Catamounts with her third of the year with 7:25 to play assisted by Hannah Westbrook (Laramie, Wyoming) and Kyleigh Palmer (Winnipeg, Manitoba).
The Golden Knights out-shot Vermont, 31-21, with Cats goalie Kristen Olychuck (Kelowna, British Columbia) making 27 saves. At the other end, Lauren Dahm stopped 19 shots in gaining the victory. UVM was hampered by going 0-for-7 on the power play while Clarkson went 2-for-3.
Vermont wraps up its five-game road swing with a final game with Clarkson Sunday at 1 p.m. at Cheel Arena. UVM returns home to host Hockey East rival Boston University at Gutterson Fieldhouse on Friday, December 5 at 3 p.m. Admission is free for all UVM students (with a valid ID) and Rally's Round Up members for all regular season home games. For ticket information please call 1-866-4-CAT-TIX or log on to www.UVMathletics.com.