Providence Tops Boston University, 2-1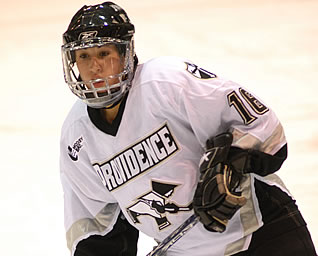 Katy Beach scored the game winner for Providence.
Boston, Mass. - A power-play goal from senior Katy Beach was the difference as Providence completed a weekend sweep with a 2-1 win over the Boston University women's ice hockey team on Sunday afternoon at Walter Brown Arena. Senior Erin Seman scored the lone goal for the Terriers, who fall to 11-9-5 overall and 8-6-0 in Hockey East play.
Seman put BU on the board first in the opening period, but sophomore Jean O'Neill answered for the Friars in the final minute of the first and Beach put Providence ahead in the second. Freshman Genevieve Lacasse made 23 saves in goal for the Friars, who improve to 14-10-2 overall and 9-3-1 in conference play.
"It's frustrating and I can't get down on my team, I can't fault them for not working hard," said BU head coach Brian Durocher. "They're doing everything they can, but we're just a little bit snakebitten and we're tight."
The Terriers struck first one second after a BU power play expired 7:51 into the game when Seman scored her eighth of the season, finding the back of the net in the midst of a flurry of shots on Lacasse. Senior Caroline Bourdeau and junior Jonnie Bloemers assisted on the play.
After that, Lacasse let nothing else past her and the Friars leveled the score at the 19:19 mark of the first period. Junior Colleen Martin dished to senior Stephanie Morris, who took a shot that was saved by Haber, but the rebound came to O'Neill, who unloaded a quick one-timer for her third goal of the year.
Providence pulled ahead for good 6:11 into the second period. With BU junior Melissa Anderson serving a checking penalty, senior Erin Normore picked off a pass in the offensive zone and passed to Beach, who fired a shot from the slot inside the near post for her eighth goal of the season.
Junior Melissa Haber made 20 saves between the pipes for BU, none more spectacular than a glove save to stop freshman Laura Veharanta after the rookie skated through the BU defense and tried to fire a shot to the top corner.
The Terriers held a 24-22 edge in shots on goal marking the seventh straight contest in which they have outshot their opponent. BU was held scoreless on five power-play opportunities, while the Friars were 1-for-5.
BU is back in action on Friday (Jan. 30), hosting Vermont to open a two-game Hockey East series at 7 p.m. at Walter Brown Arena.