Friday, November 14, 2008
BOSTON UNIVERSITY SHUTS OUT PRINCETON, 2-0
Allyse Wilcox posts shutout with 30 saves for Terriers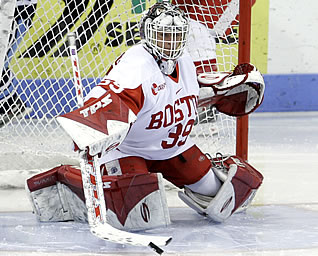 BU's Allyse Wilcox made 30 saves to post the shutout
PRINCETON, N.J. - Senior goaltender Allyse Wilcox stopped all 30 shots she faced to lead the No. 7 Boston University women's ice hockey team to a 2-0 win over Princeton on Friday evening at Hobey Baker Memorial Rink. Senior Erin Seman and sophomore Jillian Kirchner scored for the Terriers, who improve to 6-2-3 this season and are unbeaten in their last eight games, a program record.
Wilcox posted her first shutout of the season and sixth of her career to improve to 4-1-3 this season and remain unbeaten in her last six outings, keeping a clean sheet despite the Tigers holding a 30-27 advantage in shots on goal.
Seman provided BU the only goal it needed at 14:11 in the first, breaking through on the third rebound attempt to cap a mad scramble in front of the goal as junior Melissa Anderson had two shots saved by Princeton senior Kristen Young, who made 25 saves in the contest. Seman's tally was her fourth of the season and her 11th career game-winning goal to extend her program record.
The second period elapsed without a goal, but the Terriers added another right off the draw in the third when freshman Jenelle Kohanchuk gained the puck just after the faceoff and dished to Kirchner, who scored her fourth of the season six seconds into the period.
Both teams boasted perfect penalty kills as BU was 0-for-5 on the power play to snap a string of six straight games with a power-play goal and the Tigers were 0-for-6. Princeton fell to 2-5-0 with the loss.
The Terriers are back in action on Saturday (Nov. 15) continuing a season-long five-game road swing with a stop in Hamden, Conn., to face Quinnipiac at 4 p.m.