Maine Falls to Boston University, 5-1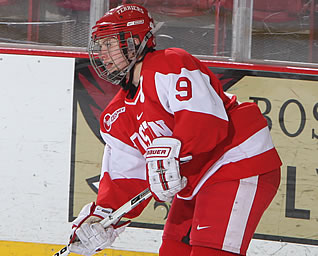 Gina Kearns scored two goals for the Terriers
Orono, ME. - The University of Maine women's ice hockey team fell 5-1 to visiting Boston University on a snowy night in Orono. The Black Bears drop to 4-17-2 overall and 1-9-1 in Hockey East. The Terriers move to 11-7-5 with the win and 8-4-0 in conference play. Jennie Gallo's (Castlegar, British Columbia) unassisted goal in the second period was Maine's lone goal of the evening.
The two teams played even for most of the first period before Boston University crashed the net on a power play with 3:12 left in the period. Sarah Appleton launched a shot that goaltender Genevieve Turgeon (Lac Beauport, Quebec) saved, but the rebound kicked to Jilla Kirchner to Turgeon's left. Kirchner's shot was saved, but another rebound kicked out, finding Gina Kearns who was able to put it into the net.
The Terriers scored early in the second as Sarah Russell netted a goal on a pass from Appleton just 2:53 into the second.
The Black Bears got onto the board just over two minutes later as Gallo intercepted a pass in the Boston zone. Gallo rifled a slap shot from the blue line that found its way through traffic and over the shoulder of netminder Melissa Haber to make it 2-1. The score was Gallo's team-leading ninth of the season.
Boston University squashed any chance of a comeback by scoring three unanswered goals over the remainder of the game for a final score of 5-1.
Turgeon saved 30 shots as she slide to 3-16-1 on the season. Haber's 15 saves improved her record to 4-2-2. Maine was outshot 35-16.
The Black Bears return to the ice as they travel to rival New Hampshire for a two game series starting Friday, Jan. 23, at 7 p.m.