Saturday, January 3, 2009
WELCH, SCHAUS LEAD EAGLES PAST YALE IN OVERTIME, 1-0
Daniell Welch scores game-winner: Molly Schaus makes 32 saves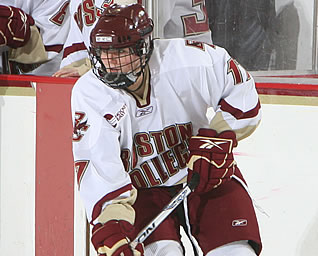 Danielle Welch scored the game-winner for the Eagles
New Haven, Conn. - The #7 Boston College women's ice hockey team defeated Yale University 1-0 in overtime to sweep their weekend road games against Colgate and Yale.
The win give the Eagles a 5-1-1 record against the ECAC for the season and improves their overall record to 12-4-3.
BC put 22 shots on net versus the Bulldogs 32 through three scoreless periods before freshman forward Danielle Welch scored the game winner at 1:52 into the five minute overtime period off a dish from Andrea Green and Kelli Stack.
Goaltender Molly Schaus stopped all 32 shots on net and held Yale scoreless on five powerplay attempts for her sixth shutout of the season.
The Eagles continue their road schedule against St. Lawrence with a two game series on January 9 and 10 at 7 p.m. and 3 p.m. respectively.