BOSTON COLLEGE DEFEATS VERMONT, 4-1
Megan Shea nets two goals in win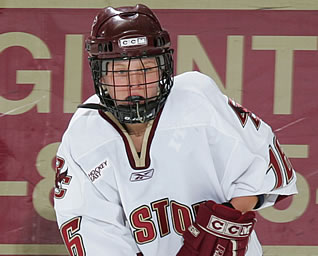 Kelli Stack had three assists for the Eagles
Chestnut Hill, MA - The #4 Boston College Women's Ice Hockey team defeated Hockey East opponent the University of Vermont on Friday afternoon 4-1.
Freshman forward Megan Shea recorded her first collegiate goal at 7:11 in the first frame. Junior Kelli Stack dug the puck out of the corner and passed to linemate Danielle Welch inside the circle. Welch shot the puck across the crease where it was tipped in by Shea to put the Eagles ahead 1-0.
The team's battled through the rest of the period without either gaining an advantage, BC outshot the Catamounts 10-4.
Shea scored her second goal of the game 1:32 into the second period to give the Eagles a two goal lead. Senior Meghan Fardelmann's initial shot on goal rebounded off UVM goalie Kristen Olychuck's pads landing at the top of the crease where Shea slipped it in.
Vermont managed to cut the lead to one in the second when Vermont's Kyleigh Palmer caught a breakaway pass and managed to beat Eagle's goaltender Molly Schaus at 6:38 in the frame. Schaus allowed only one goal on 19 shots, BC has allowed only two goals or fewer in five of their last six games.
The Eagles would add an insurance goal to their lead two minutes later when defenseman Maggie Taverna caught Stack's pass off the face-off outside the circle and fired a slapshot past Vermont's goaltender to give BC the 3-1 lead for her first goal of the season.
BC would push the score to 4-1 22 seconds into the third period when Stack passed to Allie Thunstrom inside the face-off circle. Thunstrom shot the puck across the crease where Welch was waiting with the tip in.
Vermont had an opportunity to cut BC's lead with five minutes remaining in the game but the defensive pairing of Tracy Johnson and Brie Baskin managed to cut off the attack and the Eagle's went on to win it 4-1.
The Eagles play again tomorrow when they travel to Northeastern University to take on the Lady Huskies at Matthew's Arena at 2 p.m.