Saturday, February 21, 2009
PROVIDENCE TOPS BOSTON COLLEGE WITH 1-0 SHOOTOUT WIN
Teams skate to 1-1 tie; Ashley Cottrell scores lone shootout goal for PC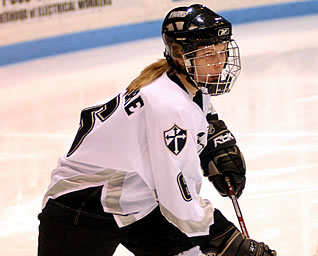 Erin Normore score the game-tying goal for the Friars
Chestnut Hill, MA - The Boston College women's ice hockey team tied the Providence College Friars 1-1 on Saturday afternoon in the Eagles final home game of the season. Providence was awarded the extra point after winning the shootout.
BC celebrated its Senior Day today, honoring the eight graduating players of the class of 2009.
Kelli Stack scored the lone goal for the Eagles seven minutes into the first period, skating up through the neutral zone on the left wing and crossing in front of the net to fire a wrister through traffic that beat Friars goalkeeper Genevieve LaCasse to give BC the 1-0 lead. Senior Brie Baskin corralled the puck in the BC zone and passed it along the boards to Mary Restuccia who tipped it to Stack for the goal.
The teams ended the first period with the Eagles leading 1-0.
Providence scored the tying goal early in the second period and the two teams remained deadlocked through the rest of the game.
It is only the third time this season that BC has advanced to the shootout, they took the extra point against the Terriers one week ago in similar fashion, but were unable to find a way past LaCasse and the Friars took the extra point.
Molly Schaus made 30 saves in the game.
BC took second place in Hockey East standings, earning a bye for the quarterfinal phase of the Hockey East tournament and a place in the semifinals hosted by New Hampshire on March 7 at the Whittemore Center.