Saturday, February 7, 2009
BOSTON COLLEGE SHUTS OUT MAINE, 2-0
Molly Schaus posts shutout with 13 saves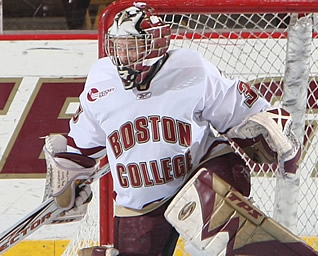 Molly Schaus made 13 saves for the Eagles
CHESTNUT HILL, MASS. - A pair special team goals in the third period propelled the Boston College women's ice hockey team to a 2-0 victory of the University of Maine in game one of a two game home series on Saturday afternoon.
The win gives the Eagles (18-7-3, 11-5-1 HEA) their eighteenth victory of the season and junior goaltender Molly Schasu her ninth shut out of the season.
The Eagles put 11 shots to the Black Bears five in the first period but left the ice empty-handed.
In the second period BC appeared to pull ahead off a goal by Allie Thunstrom with two minutes left in the frame, but the goal was disallowed because of players in the crease.
The Eagles broke out in the third period, with senior Meghan Fardelmann netting a power play goal at 12:03 of a dish from Maggie Taverna and Mary Restuccia to put the maroon and gold ahead 1-0.
Less than two minutes later and playing a man down after an interference call, juniors Kelli Stack and Allie Thunstrom combined for their second shorthanded goal in less than a week to give the Eagles a 2-0 lead.
Schaus made 13 stops in the game to hold the Black Bears scoreless. BC outshot Maine 29-13 and was 1-for-5 on the power play and killed off all six of Maine's opportunities.
BC and Maine face off again on Sunday afternoon for game two of the two game series at Conte Forum at 1 p.m.