Tuesday, February 10, 2009
BOSTON COLLEGE EARNS BEANPOT TITLE WITH 1-0 WIN OVER HARVARD
Molly Schaus earns shutout with spectacular 40 save performance in title game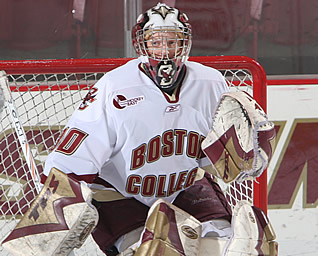 Molly Schaus made 40 saves for the Eagles
Boston, MA - In one of the closest games in the history of the Women's Beanpot, the No. 7 Boston College women's ice hockey team defeated Harvard University 1-0 to win the 31st annual Women's Beanpot on Tuesday night at Matthew's Arena.
The teams entered the game close to evenly matched; the Eagles offense was averaging 3.10 goals per game while only allowing 1.72. The Crimson meanwhile were putting 2.91 goals on the board and only allowing 1.87.
The Eagles (20-7-3, 12-5-1 HEA) and the Crimson (13-8-3, 12-4-2 ECAC) battled through a fast paced and aggressive but scoreless first period. Harvard managed 19 shots on net including one power play to BC's six but was held in check by junior netminder Molly Schaus.
The second period mirrored the first in pace and aggressiveness with the Eagles turning the tables with 14 shots on net the Harvard's nine but both Schaus and Crimson goalie Christina Kessler remained solid in the crease to keep the scoreboard blank.
The Eagles had their first 5 x 3 opportunity of the season at the end of the after Sarah Vaillancourt and Sarah Wilson were whistled for penalties. Despite the opportunity BC was unable to put more than a four shots on net before they were called for high-sticking to close out the frame.
The Eagles finally caught a break halfway through the third period, when junior Allie Thunstrom blocked a shot by Harvard on the penalty kill and skated up the boards before centering a pass on Kelli Stack who was waiting in the slot for the tip in.
Schaus stopped 40 shots and killed off all five of Harvard's power plays to win their third title.
BC goalie Molly Schaus was named the Bertagna Award winner for best goaltender of the tournament and Kelli Stack received the tournament MVP award.
The Eagles face-off against Boston University on Saturday February 14 at 1 p.m.