Thursday, November 13, 2008
BOSTON COLLEGE HOLDS OFF CONNECTICUT, 3-2
Molly Schaus makes 35 saves in Eagle net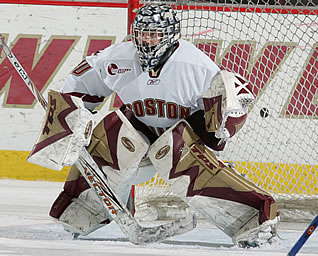 Molly Schaus made 35 saves for the Eagles
CHESTNUT HILL, Mass. - The Boston College Women's Ice Hockey team defeated Hockey East opponent, the University of Connecticut 3-2 on Thursday night at Kelley Rink.
The game was delayed one hour and fifteen minutes due to technical difficulties with UConn's bus pushing the game from a 7 p.m. start to 8:15.
The Eagles and Huskies traded possession throughout the beginning of the first period, with the first power play of the game occurring at 8:50 on an interference call on the Huskies. BC capitalized on the man advantage with Danielle Welch netting her first goal of the game, fifth of the season at 10:13 in the frame assisted by Allie Thunstrom.
BC tallied their second goal of the game at 15:30 when Megan Shea corralled Meghan Fardelmann's pass and fired a soft wrister at UConn netminder Brittany Wilson that beat the goalie five-hole to send the teams to the locker rooms with the Eagles leading 2-0.
The Huskies switched goalies at the start of the second, replacing Wilson with freshman Alexandra Garcia.
Forward Kelli Stack pushed the score to 3-0 with her team leading 9th goal of the season at 8:02
UConn managed to shave a goal off BC's lead at 13:12 in the second when Becky Zavisza was whistled for hooking.
At the end of the 2nd period the score stood at 3-1 BC.
The Huskies came to life in the third period putting 18 shots on net. UConn capitalized on an interference penalty against the Eagles to cut BC's lead to one goal. Dominique Thibault caught Michelle Binning's pass at the top of the crease and fired a shot to the back of the net.
UConn pulled their goalie in the final minute for the extra skater but were unable convert the man advantage into a goal.
The Eagles were 1-3 on the power play to the Huskies 2-8.
Molly Schaus made 35 saves in the win.
BC travels to Maine on Sunday to wrap up their weekend of Hockey East action at Alfond Arena at 2 p.m. against the Black Bears.