BOSTON COLLEGE DEFEATS COLGATE, 3-1
Molly Schaus posts 27 saves for Eagles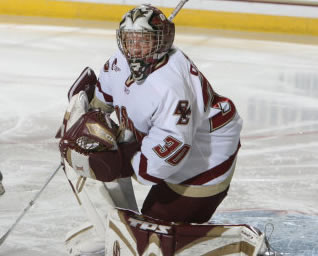 Molly Schaus made 27 saves for the Eagles
Hamilton, N.Y. - The #7 Boston College women's ice hockey team defeated Colgate University 3-1 on the road for their first win of 2009.
Following a scoreless first period, the Eagles got on the board first with freshman forward Mary Restuccia netting the first goal of the game at 8:40 in the frame with assists from Allie Thunstrom and Maggie Taverna.
BC followed up less than a minute later with senior Becky Zavizsa netting the game-winner on the dish from linemate Meaghan Fardelmann.
Colgate attempted a comeback in the third to cut the Eagles lead to one, but junior netminder Molly Schaus (27 saves) and the defense managed to shut down the Raiders.
Freshman forward Danielle Welch added an empty netter insurance goal off a pass from Taverna and senior Stephanie Olchowski to put the game out of reach.
The Eagles are back in action tomorrow night when they travel to New Haven, Conn. to face the Yale Bulldogs at 7 p.m.