Saturday, February 14, 2009
BOSTON COLLEGE TOPS BOSTON UNIVERSITY IN SHOOTOUT
Game ends in 3-3 tie; BC's Mary Restuccia scores decisive shootout goal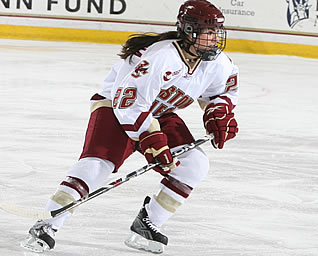 Mary Restuccia scored the decisive shootout goal
Chesnut Hill, MA - The Boston College women's ice hockey team tied 3-3 with Boston University on Saturday afternoon and won the shootout to win the extra point and hold on to second place in the Hockey East league standings.
Entering the game, BC (20-7-4) was in second place in the Hockey East standings with 25 points with BU (15-10-7) right behind in third place with 24 points.
It was only the second time this season that the Eagles have had to advance to the shootout in league play. The previous outing coming back in October with New Hampshire winning in the fifth round of the shootout to take the extra point. The game remains a tie for NCAA purposes.
BC opened the scoring at 6:31 in the first period when senior defenseman Stephanie Olchowski centered a pass straight to the tape of freshman forward Andrea Green. Green fired off a slapshot that beat BU goaltender Allyse Wilcox to put the Eagles ahead 1-0.
The Terriers evened the score ten minutes later with Jenelle Kohanchuk scoring the first of her two goals in the game on a breakawy to tie the score and close out the first period.
BU pulled ahead early in the second period when BC was whistled for a tripping penalty just 25 seconds into the period. On the power play the Terriers Melissa Anderson fired a shot at Eagles netminder Molly Schaus who stopped the initial shot but was unable to control the puck as it dribbled under her pad and into back of the net to put the Terriers up 2-1.
With the Eagles down 2-1 entering the second half of the period, senior forward Meghan Fardelmann skated into the BU zone and fired a shot past Wilcox to tie the score at two at 9:52.
The Eagles pulled regained the lead at 16:44 in the second after defenseman Katelyn Kurth's slapshot was stopped, forward Becky Zavisza grabbed the puck and slipped it by Wilcox for the 3-2 end the second frame.
The Terriers tied it in the third with Kohanchuk's second tally of the game at 7:24.
The two teams battled through the rest of the third period and a scoreless overtime to advance to the shootout.
After three rounds of the shootout the score was tied at one each with BC's Kelli Stack and BU's Tara Watchorn converting on their attempts. Advancing to sudden death, the Eagles Mary Restuccia beat Wilcox to give BC the extra point.
The Eagles put 26 shots on net and Schaus made 16 saves in the tie.
BC concludes the regular season with a home-and-home series with Providence College on February 20 and 21 with Friday night's game played in Rhode Island at 4 p.m. before finishing up the regular season with a 1 p.m. home game on Saturday.