TOP SEED NEW HAMPSHIRE WINS THIRD WHEA TITLE WITH WITH OVER PC
UNH's Sam Faber wins Most Valuable Player honors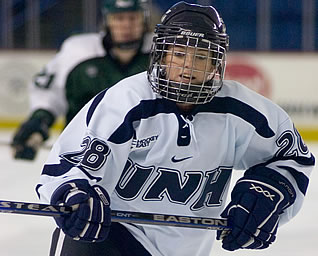 Junior Sam Faber was named Tournament MVP after scoring her third goal of the weekend
STORRS, Conn. -- Junior forward Sam Faber (Mt. Sinai, N.Y.) scored her 25th goal of the season to lead the No. 1 seed New Hampshire women's ice hockey team to its third straight WHEA Championship, with a 1-0 win over Providence College in the Hockey East title game on Sunday afternoon at UConn's Mark Edward Freitas Ice Forum.
OTHER LINKS: Post-Game Quotes - Video Highlights
Faber netted the lone goal of the game at 16:43 in the first period as Courtney Birchard (Mississauga, Ont.) and Maggie Joyce relayed passes up the ice to find Faber. The junior forward skated past three defenders and shot the puck past Providence goaltender Danielle Ciarletta (Blaine, Minn.) to put the Wildcats up 1-0.
UNH heads into the NCAA Tournament with a 32-3-1 overall record. The Wildcats were the 2007-08 regular season Hockey East champions after finishing the year with a conference mark of 21-0-1.
Faber, who won the Tournament MVP for the second time in her Wildcat career, was joined on the 2008 WHEA All-Tournament Team by forwards Mari Pehknonen (Tampere, Finland) of PC and Jenn Wakefield (Pickering, Ont.) of the Wildcats. PC's Kathleen Smith (Waterloo, Ont.) and Maggie Joyce were named defenders on the WHEA All-Tournament Team, along with freshman goalie Kayley Herman (Weyburn, Sask.) of UNH.
Third-seeded Providence evens their record out to 16-16-4 on the year after their championship loss. The Friars gave the top-seeded Wildcats a tough battle in their championship appearance, a performance in which the Providence program has become accustomed to as the Friars won each of the first three league titles (2003-05). Providence was also the 2007 Hockey East runner-up while New Hampshire is the two-time defending champion in the Hockey East while being ranked second in the nation.
UNH earned a spot in the championship title game after an 8-0 semifinal win over Boston University on Saturday afternoon. Providence defeated tournament host, University of Connecticut, in the second semifinal game on Saturday. The Friars posted a 5-1 advantage over the Huskies to advance to the title game.
The Wildcats posted a 22-17 shots tally against Providence in today's tournament final as New Hampshire used an 11-4 shot advantage in the first period to put a goal on the board. Both programs were unsuccessful in power-play situations, as the Friars finished the game with a 0-for-4 showing while the Wildcats finished 0-for-5.
Today's Hockey East championship game will be broadcast tape delayed on NESN at 6:00 p.m. Sunday, March 9. The NCAA selection committee will announce the pairings for next's weeks tournament via teleconference tonight at 6 p.m.