VERMONT SWEEPS MAINE WITH 6-1 WIN ON SUNDAY
Chelsea Furlani posts goal and three assists for Catamounts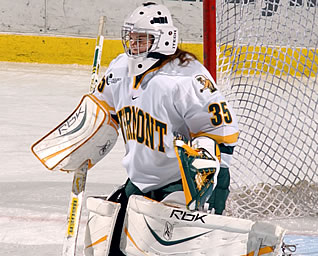 Kristen Olychuck made 18 saves for Vermont
ORONO, Maine - The University of Maine Women's Ice Hockey team dropped a 6-1 decision Sunday afternoon against Vermont. Maine fell to 4-27-3 and 3-15-3 in Hockey East while Vermont improved to 8-25-1 and 4-16-1 in Hockey East. Junior goaltender Genevieve Turgeon broke a school record for saves in a single season. The record was previously held by Lara Smart who set the previous mark of 895 in the 2003-04 season. Maine also honored their graduating seniors Jenna Cowan, Pam Patterson and Kim Meagher after the game.
In the first period, Vermont got on the board when Chelsea Furlani got a rebound off a Brittany Nelson shot and put it in the net. The goal was scored 1:07 into the period. The Catamounts went two up at 5:26 into the period on the power play when Molly Morrison got a rebound of her own and put it in the back of the net. Peggy Wakeham assisted on the goal. Maine pulled one back when junior Vanessa Vani took a centering pass from classmate Robyn Law and shot it past Vermont goaltender Kristen Olychuck. Her sixth goal of the season was scored with 7:22 remaining in the period. Maine outshot Vermont 6-5 in the period.
In the second period, the scoring subsided as neither team could put one past the goaltenders. Vermont outshot Maine 14-5 in the period.
In the third period, Vermont got their third goal from Saleah Morrison on the powerplay. Her third goal of the season was scored 57 seconds into the period and was assisted by Chelsea Furlani. Melanie Greene got Vermont's third power play goal at 3:38 into the period. Peggy Wakeham and Chelsea Furlani assisted on her second of the season. Maine pulled their goaltender with just about 11 minutes left in the period and stopped Vermont from scoring until 7:30 remaining when Brittany Nelson put the puck into the open goal. Furlani assisted on Nelson's sixth of the season. Maine kept the goalie out of the net and Melanie Greene got her second goal of the game with 5:14 remaining. Hanna Westbrook assisted on Greene's third of the season. The Catamounts outshot the Black Bears 10-8 in the final frame.
Maine starting goaltender Genevieve Turgeon totalled 18 saves while backup goaltender Sarah Bishop made five saves in the game. Vermont goaltender Kristen Olychuck totalled 18 saves. Turgeon went to 4-19-3 on the season while Olychuck went to 8-20-1. Maine was 0-for-8 on the power play while Vermont went 3-for-6.
The game was Maine's final game of the season.