BOSTON UNIVERSITY CLINCHES FINAL PLAYOFF SPOT WITH 2-0 WIN OVER NORTHEASTERN
Terriers into Women's Hockey East Tourney for first time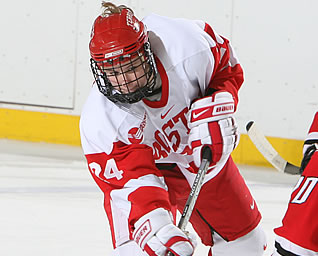 Melissa Anderson scored one of the Terrier goals
BOSTON, Mass. - The Boston University women's ice hockey team earned its first playoff berth in program history with a 2-0 victory over Northeastern Saturday at Walter Brown Arena. Freshman Lauren Cherewyk scored the game winner in the first period, sophomore Melissa Anderson added an insurance goal in the third and junior Allyse Wilcox earned her third shutout of the season in goal.
While celebrating the team's 100th game as a varsity program, the Terriers also sealed up the fourth spot in Hockey East, advancing to the first round of the playoffs to play No. 2 New Hampshire next Saturday. Combined with a tie between Boston College and Providence earlier in the afternoon, BU put fourth place out of reach for the Eagles with the win.
Cherewyk's goal at 12:48 of the first period came off assists from Anderson and sophomore Sarah Appleton. Appleton fired a shot toward goal from the left circle, which was redirected by Anderson. Cherewyk played the rebound off the netminder and placed her shot on the right side of goal to put the Terriers ahead.
After a scoreless second period, Anderson netted her fourth goal in the past two games, also earning her sixth point in that span. Anderson scored off an assist from freshman Holly Lorms at 4:24 of the third period, recovering a rebound off a shot from Lorms and slotting it home.
Northeastern's freshman goaltender, Leah Sulyma, made 42 saves on the afternoon, as the Terriers placed 44 shots on goal. Both teams went scoreless on four power play opportunities.
BU faces the Huskies again tomorrow, playing the season finale at Matthews Arena at 2:00 p.m.