Saturday, February 23, 2008
ANDERSON LIFTS TERRIERS PAST EAGLES, 4-1
Melissa Anderson posts hat trick and assist for Terriers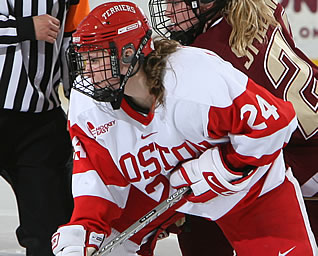 Melissa Anderson had three goals and an assist for BU
CHESTNUT HILL, Mass. - After shutting out the Boston University on Friday night, Boston College lost to BU, 4-1, Saturday night in the season series finale. The Terriers won their first game at Kelley Rink since becoming a Division I program and took the season series, 3-1. BC dropped to 13-13-6, 9-9-2 in the conference while BU improved to 13-16-3, 9-9-1 in Hockey East. Sophomore Melissa Anderson scored her first career hat trick in the win, while junior Gina Kearns registered two assists. Sophomore Kelli Stack scored the Eagles only goal of the game.
The Terriers scored the only goal of the first period just after the halfway point on their first power play of the game. Amanda Shaw nailed a slap shot for the left faceoff circle, which Anderson tipped in for her 12th goal of the season. Kearns was also credited with an assist.
The Eagles evened the score when Stack nailed a wrister at the 11:05 mark in the second stanza. Her 19th goal of the year was assisted by linemate senior Deborah Spillane and senior Cristin Stuart. Spillane recorded her 21st assist and leads the team.
BU pulled ahead on another power play five minutes later. Kearns crossed the puck to a Anderson waiting in front of the crease, who fired it past sophomore goalie Molly Schaus for lead. Julie Pulin also picked up an assist.
Anderson scored her third goal after winning a faceoff in the Eagles' zone. She pushed the puck toward Schaus, who tried to poke it away, but instead bounced it off Anderson's chest. The puck sailed over Schaus's head into the goal.
The Terriers solidified their win when Anderson passed the puck up to Erin Seaman between the center ice and the Eagles' blue line. Seaman skated past the BC defenders and took Schaus one-on-one. She faked right and shot the puck to the left of the netminder for her sixth goal of the season.
The Eagles outshot the Terriers, 28-24, and killed two of BU's six power plays. They could not score on their own two opportunities. The Terriers now have a one-point lead over the Eagles, as the two teams battle for the final spot in the Hockey East Tournament.
Boston College will honor their seven seniors in their final home game on Friday, Feb. 29 at 2 p.m. The Eagles will take on the Providence Friars.