Women's Hockey East NCAA Quarterfinal Preview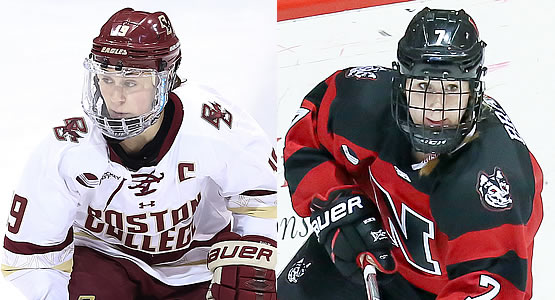 Boston College and Northeastern will represent Women's Hockey East in this year's NCAA Tournament.
Ohio State vs. #4 Boston College - Sat. 3/10 at BC
- #4 Boston College earned its 10th bid into the national quarterfinals with a 30-4-3 record this season. With the fourth overall seed in the tournament, the Eagles are set to host Ohio State at Conte Forum Saturday afternoon.
- The Eagles took the WHEA regular-season champion title home for the fifth-straight season. Freshman Daryl Watts (Toronto, Ont.), highlighted the Women's Hockey East season awards, being named WHEA Player of the Year and Pro Ambitions Rookie of the Year.
- Boston College's at-large bid secures their fourth consecutive stint as national quarterfinal hosts. It is the seventh time the Eagles have hosted as a top-four seed in the national tournament and they are undefeated when hosting the quarterfinals, claiming victory in 2011, 2012, 2013, 2015, 2016, and 2017.
- Boston College has moved on to the Frozen Four on seven occasions, including each of the last three seasons, and appeared in the national title game in 2016.
- Saturday's tilt will be the first matchup ever between Boston College and Ohio State. All-time, the Eagles are 10-19-2 against WCHA opponents, including a 2-0-0 record in 2017-18 against Minnesota Duluth at Conte Forum.
- Ohio State (23-14-5) earned a bid to the national tournament for the first time in program history after a season in which the Buckeyes accumulated the most wins in program history (23). Freshman Emma Maltais (Burlington, Ont.) earned WCHA Rookie of the Year while head coach Nadine Muzerall won the first WCHA Coach of the Year for Ohio State.
- Historically, Ohio State is 23-14-5 against Hockey East foes.

Northeastern vs. #3 Colgate - Sat. 3/10 at Colgate
- Northeastern earned Women's Hockey East's automatic bid into the national tournament by securing its first ever Women's Hockey East Tournament championship on Sunday. The Huskies, a four-seed, became the lowest seeded team to ever win the WHEA Tournament title.
- It is Northeastern's second appearance in the national tournament (2016). The Huskies draw a road contest with No. 3 Colgate and will travel to face the team for the third time this season. Northeastern previously dropped each decision of a two-game road swing at Colgate, Oct. 14-15, 2017.
- Saturday marks No. 3 Colgate's first national tournament appearance in program history, earning an at-large bid with a 32-5-1 record. The Raiders finished the regular season with a share of the ECAC Hockey title, also a program first.
- Northeastern's roster boasts six players with at least 20 points, while Colgate carries 10 skaters with at least 20 points and six players who have eclipsed the 30-point plateau.