Boston College, Northeastern Earn Bids Into National Tournament
Eagles, Huskies Set to Compete for a National Title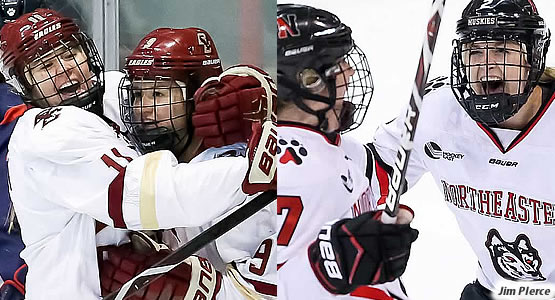 Eagles, Huskies Set to Compete for a National Title
WAKEFIELD, Mass. – Women's Hockey East regular season winners, Boston College, and tournament champion Northeastern, have earned bids into the National Tournament quarterfinals beginning Friday (March 9).
The No. 4 Eagles (30-4-3, 19-2-3 HEA) earn a bid into the NCAA field for the 10th time in program history. Boston College was tripped up in the Women's Hockey East semifinals after claiming the top seed in the WHEA Tournament for the fifth straight season. This marks the eighth-straight appearance for Boston College in the national quarterfinals and the Eagles are undefeated when hosting the quarterfinal round, claiming victory in 2011, 2012, 2013, 2015, 2016, and 2017. Boston College has moved on to the Frozen Four on seven occasions, including each of the last three seasons, and appeared in the national title game in 2016. Boston College will host Ohio State.
Northeastern (19-16-3, 11-11-2 HEA) earns just its second bid into the National Tournament after claiming the school's first ever Women's Hockey East Tournament title Sunday at Matthews Arena. The Huskies draw a road contest with No. 3 Colgate and will travel to face the team for the third time this season. Northeastern previously dropped each decision of a two-game road swing at Colgate, Oct. 14-15, 2017.
The field is rounded out by No. 1 Clarkson hosting Mercyhurst and No. 2 Wisconsin welcoming Minnesota.
The NCAA quarterfinal round is set to begin on March 9 and the four winners advance to the 2018 Women's Frozen Four hosted by the University of Minnesota at the Ridder Arena in Minneapolis, Minnesota, March 16 & 18. Semifinal games will be played at 4 p.m. and 7 p.m., Friday, March 16. The championship game will be played at 2 p.m., Sunday, March 18. All three games can be seen live on the Big Ten Network.