UConn, Northeastern Set to Battle for Bertagna Trophy
Two Huskies Face Off For WHEA Title, National Tournament Bid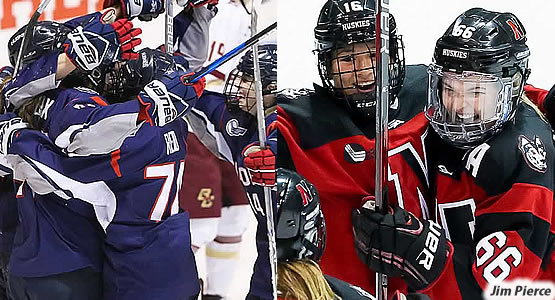 Two Huskies Face Off For WHEA Title, National Tournament Bid
BOSTON, Mass. - The Hockey East Association has announced the pairing for the 2018 Women's Hockey East championship game, as No. 4 Northeastern and No. 7 UConn will square off at Matthews Arena, Sunday, March 4, at 1:30 p.m. The title game will be shown live on NESNplus across New England.
No. 7 UConn (16-13-9, 7-11-6 HEA) on Saturday at 1:30 p.m. UConn moves onto the final for the third time in program history (2005, 2010) and is the first seven-seed to advance to the championship game in tournament history. Forward Natalie Snodgrass (Eagan, Minn.), named to the 2017-18 Pro Ambitions All-Rookie Team and the All-Hockey East Second Team, scored twice for UConn while junior forward Nora Maclaine (Easton, Mass.) scored her first goal of the season to push the Huskies past two-time defending champion No. 1 Boston College.
No. 4 Northeastern (18-16-3, 11-11-2 HEA) returns to the Women's Hockey East title game for the fourth time in program history, and second time in as many years, seeking its first Bertagna Trophy. The Huskies advanced past the No. 3 Maine, 2-1, on their home ice of Matthews Arena in the semifinals. Matti Hartman (Etna, N.H.) scored the game-winning goal at the 5:27 mark of the third period to secure the victory while rookie netminder Aerin Frankel (Briarcliff Manor, N.Y.) made 24 saves to earn her third career postseason victory.
The match up of the fourth and seventh seeds ensures the lowest-seeded champion in tournament history as both UConn and Northeastern seek to lay claim to the Women's Hockey East Tournament crown for the first time
NESNplus will feature both semifinal games in two-hour reairs beginning at 9:30 a.m. Sunday morning. The 2018 Women's Hockey East Championship will then air on NESNplus live at 1:30 p.m. and be shown twice on NESN as two-hour reairs.
Adult tickets to the Women's Hockey East championship are $10 and can be purchased online at Tickets.GoNU.com or by calling 617-373-4700. Tickets for groups of 10 or more will be $5 per person per day and group orders can be placed over the phone at 617-373-4700.
Tickets for seniors (over 60), children (under 12) will be available only at Matthews Arena for $5. Students from any of the nine institutions in the women's league will receive free admission with a valid student ID.