Thursday, February 8, 2018
Women's Hockey East Weekend Preview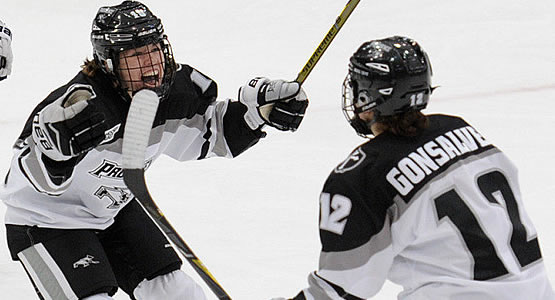 Providence hosts Maine for a two-game series beginning on Saturday.
#3 Boston College vs. New Hampshire; Boston University - Fri. 2/9, Tue. 2/13 at BC
- New Hampshire (13-11-7, 8-8-5 WHEA) travels to No. 3 Boston College (25-2-3, 17-1-3) for their third and final game against each other in the regular season. The Eagles hold a 2-0-0 lead against the Wildcats this season, recording a 6-0 shutout win at home and a 5-1 win at New Hampshire in early January.
- The Eagles, 2017-18 Women's Hockey East regular season champions, will receive the regular season trophy in a post-game ceremony on Friday.
- The home-and-home series in January was highlighted by BC freshman Daryl Watts (Toronto, Ont.), who scored five goals and added two assists against the Wildcats. Watts was named January's Pro Ambitions Rookie of the Month, along with teammates Makenna Newkirk (Scottsdale, Ariz.), honored as Co-Player of the Month, and Katie Burt (Lynn, Mass.), who received Hockey East Goaltender of the Month.
- The Wildcats remain in fourth place in the Army ROTC Women's Hockey East standings with three games left in the regular season. They have clinched a playoff position but have not yet secured home ice in the quarterfinal round.
- The 2018 Beanpot title game will feature the Eagles and Terriers, teams vying for their eighth and second titles, respectively, in the 40th iteration of the tournament.

UConn vs. Vermont - Fri. 2/9, Sat. 2/10 at UVM
- UConn (11-11-8, 5-10-5 WHEA) travels to Vermont (9-17-4, 6-12-3 WHEA) unbeaten in its last five games against Hockey East rivals. Freshman Natalie Snodgrass (Eagan, Minn.) received this week's Pro Ambitions Rookie of the Week after picking up a goal and an assist against Northeastern and Providence this past weekend. She now has 17 goals and 13 assists in her first year as a Husky.
- Vermont went 1-1-0 last weekend, defeating Boston University on the road, 5-1, and falling short against Merrimack, 4-2. Sophomore Eve-Audrey Picard (Longueuil, Que.) recorded a hat trick against the Terriers on Friday, her third of the season and second in as many games for the Catamounts.
- The last time these two teams met, Vermont took home the win, defeating UConn, 2-1, in Storrs on Oct. 7.

#9 Maine vs. Providence - Sat. 2/10, Sun. 2/11 at PC
- The Black Bears (17-9-4, 11-6-3 WHEA) will travel to Providence (14-11-6, 10-7-4 WHEA) for a weekend series against the Friars beginning on Saturday. It will be a battle of the goaltenders, as Maine's Carly Jackson (Amherst, N.S./.630) and Providence's Madison Myers (Colchester, Vt./.552) rank second and fourth in winning percentage in the Women's Hockey East standings. Jackson also leads the league in goals against average and save percentage (1.80 GAA, .930
- The series is tied this season (0-0-1), as the two programs skated to a 2-2 draw back on Nov. 10. Two rookies, Maine's Michelle Weis (Charlottenlund, Denmark) and Providence's Maureen Murphy (Buffalo, N.Y.), each scored a pair of goals for their teams in the stalemate.
- Maine and Providence, currently second and third in the Army ROTC Women's Hockey East standings, are separated by just one point. While neither team has yet secured home ice on the quarterfinal round, one is set to do so this weekend regardless of the outcomes of the contests. Whichever team hits the 27-point threshold this weekend will clinch home ice advantage in the playoffs, as the Black Bears sit with 25 and the Friars at 24.

Northeastern vs. Merrimack/Harvard - Sat. 2/10 at MC; Tue. 2/13 at BC
- The Huskies (13-14-3, 9-10-2 WHEA) head up to Merrimack (11-17-3, 6-13-2 WHEA) for a single game to finish out their season series on Saturday. The last two games resulted in a shutout win for Northeastern, 2-0, and a tie game, 1-1, dating back to Nov. 10-11.
- Merrimack enjoyed a weekend sweep in league play, posting wins at nationally-ranked Providence, 4-1, and at Vermont, 4-2. Katelyn Rae (Courtice, Ont.) posted a total of five points this past weekend for the Warriors, including a goal in each game. She was named the NCAA's third star of the week, as she scored the game-winning goal at Providence and set up the decisive marker at Vermont.
- Northeastern suffered a loss in the Beanpot's opening round on Tuesday, 5-2, against the Boston College Eagles. Andrea Renner (Arlington Heights, Ill.) and Shelby Herrington (Bow, N.H.) each scored goals to tie the game at 2-2, but a hat trick from BC's Makenna Newkirk secured the win for the Eagles.
- The Huskies currently sit in fifth place in the Army ROTC Women's Hockey East standings, one spot out of a hosting spot for the WHEA quarterfinals. Merrimack sits in ninth place, one point out of playoff contention behind Vermont.