BC's Daryl Watts Collects National Rookie of the Month Award
Freshman forward Garners Fourth National Recognition After Leading the NCAA In Scoring in January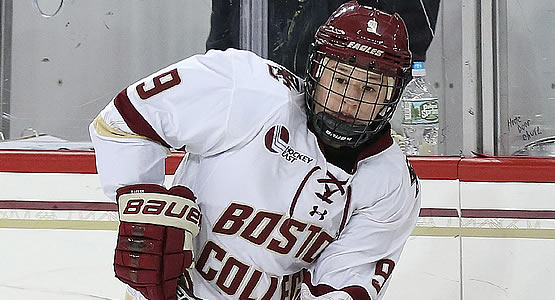 Freshman forward Garners Fourth National Recognition After Leading the NCAA In Scoring in January
WAKEFIELD, Mass. - Daryl Watts (Toronto, Ont.) picks up her fourth national award of her young career, winning National Player of the Month in October and National Rookie of the Month in October and November, racking up an NCAA-best 22 points and 12 goals in January, helping Boston College secure a 9-1-0 mark. She currently leads the nation in scoring with 69 points, 34 goals, 2.38 points per game, nine power-play goals, 13 power-play assists, 22 power-play points, three short-handed goals, and 171 shots on net.
In January alone, the freshman posted an NCAA-best 12 goals, 22 points, five power-play helpers and three short-handed goals. She tied for second nationally with a plus-12 rating and netted two game-winning strikes on the month. Overall, she contributed on seven of the nine winning markers for the Eagles.
She began the month of January with back-to-back five-point outings, racking up six goals and four assists in a pair of wins against Merrimack and New Hampshire. The Toronto, Ontario native registered seven multiple- point games, three multiple-goal tilts, and two multiple-assist contests.
Watts wrapped the month with a pair of game-winning goals over No. 10 Providence, leading the Eagles to their fifth consecutive WHEA regular season title and the top seed in the Women's Hockey East Tournament. Her two goals on Jan. 20 lifted Boston College to the victory and the title.
Clarkson University forward Loren Gabel (Kitchener, Ont.), who currently leads ECAC Hockey in scoring with 58 points on 28 goals and 30 assists has been named the Hockey Commissioners' Association National Division I Player of the Month for January.
A junior left wing from Kitchener, Ontario, Gabel paced ECAC Hockey in points (16), goals (11) and game-winning goals (4) in the opening month of 2018. Gabel scored at least one goal in each of the seven games of the month. She finished with a plus/minus rating of plus-15 in seven games during the month.
Gabel was a two-time Player of the Week (1/23, 1/30) and named once as NCAA 1st Star of the Week (1/23) and once as NCAA 3rd Star (1/30). She has been the league's Player of the Week on five occasions this season. She recorded a fivepoint night on January 20 at Dartmouth, registering a hat trick and adding two helpers in the Golden Knights' 8-1 road win. The 5-4 junior was tabbed as ECAC Hockey Player of the Month for the third time this season. She currently leads the conference in league scoring with 39 points and 21 goals in 18 conference contests.
She has helped Clarkson to No. 2/3 ranking in the national polls as the Golden Knights are currently atop the ECAC Hockey standings, riding a nation-best 15-game winning streak.