Thursday, February 1, 2018
Women's Hockey East Weekend Preview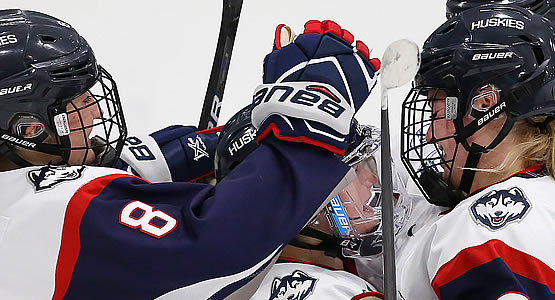 UConn will take on two teams in the top five of the Women's Hockey East standings when they face Northeastern and Providence this weekend.
#2 Boston College vs. Northeastern - Tue. 2/6 at BC
- The Eagles (24-2-3, 17-1-3 WHEA) have a few days off before returning to home ice on Tuesday night to host Northeastern (13-12-3, 9-9-2 WHEA) in the opening round of the 40th Annual Women's Beanpot Tournament. The meeting will be a rematch of last year's Beanpot Championship game, which saw Boston College walk away with a 2-1 victory.
- Last weekend's sweep over then #10 Providence yielded several accolades for the Eagles. Katie Crowley's team has secured their fifth straight regular season championship, while goaltender Katie Burt (Lynn, Mass.) amassed some individual honors. The senior now holds the NCAA all-time wins mark (115), as well as the most minutes played in Hockey East contests (4702:14). She earned Women's Hockey East Player of the Week honors for her efforts.
- Before taking on Boston College in the Beanpot, Northeastern travels to Connecticut to take on the league's other Huskies (9-11-8, 3-10-5 WHEA). This will be the third meeting between the two teams this season, with Northeastern skating away with wins in the prior contests.
- The NU Huskies enter the weekend after dropping two games on the road at Vermont. Freshman forward Veronika Pettey (Potomac, Md.) had four assists in the series while senior defenseman Lauren Kelly (Watertown, Mass.) netted two goals in the setbacks.

#9 Providence vs. Merrimack/UConn - Fri. 2/2 at PC; Sat. 2/3 at UConn
- Providence (14-9-6, 10-5-4 WHEA) looks to complete the series sweep when they play host to Merrimack (9-17-3, 4-13-2 WHEA) for the third and final time in regular season Women's Hockey East play. The Friars have outscored the Warriors, 9-1, in their previous two contests this season.
- Cassidy MacPherson (Oakville, Ont.), Maureen Murphy (Buffalo, N.Y.) and Madison Sansone (Lockport, N.Y.) have accounted for six of the nine Friars goals against the Warriors this season, each finding the back of the net twice.
- Merrimack comes into the last month of regular season play after dropping two games in a home and home series with Boston University last weekend.
- The Warriors wrap up two three-game series when they take on Providence and Vermont. The Merrimack squad is 0-4-0 against the Friars and Catamounts this season.

Boston University vs. Vermont/Harvard - Fri. 2/2 at BU; Tues. 2/6 at BC
- Boston University (10-13-6, 6-10-5 WHEA) welcomes the Catamounts looking for a season sweep when they play Vermont in the final game of their regular-season series before taking on Harvard in the first game of the Beanpot Tournament. The Terriers have not appeared in the Beanpot championship game since 2012.
- In last weekend's sweep of Merrimack, Terrier forward Victoria Bach (Milton, Ont.) tallied seven points on four goals and three assists. The senior now sits at the top of the Boston University all-time career points list with 185. Bach was named Women's Hockey East Co-Player of the Month on Wednesday after racking up 14 points in just six games in January.

UConn vs. Northeastern/#9 Providence - Fri. 2/2 at UConn; Sat. 2/3 at PC
- UConn (9-11-8, 3-10-5 WHEA) will take on two teams in the top five of the Women's Hockey East standings when they face Northeastern and Providence this weekend. The Huskies are coming off a weekend which saw them top another top five team in the league standings, taking a key four points from Maine at home.
- Goaltender Annie Belanger (Sherbrooke, Ont.) turned away 51 of 52 Black Bears' attempts en route to earning Women's Hockey East Defensive Player of the Week honors on Monday. The senior earned her second shutout of the season in Saturday's 4-0 victory.

Maine vs. New Hampshire - Fri. 2/2, Sat. 2/3 at Maine
- Maine (16-9-3, 10-6-2 WHEA) is back on home ice for two games with New Hampshire (13-10-6, 8-7-4 WHEA) after dropping two games on the road at UConn over the weekend.
- On Friday, the Black Bears forced an extra frame with a goal from Michelle Weis (Charlottenlund, Denmark) with less than two minutes to go in regulation, but the comeback effort came up short as UConn was able to take the win 2-1 in overtime.
- New Hampshire is back on the road after nabbing two wins on a non-conference road trip at Quinnipiac. The Wildcats defeated the Bobcats by scores of 4-2 and 2-1.
- Goaltender Ava Boutilier (Charlottetown, P.E.I.) turned away 57 of 60 Quinnipiac attempts on the weekend en route to earning Pro Ambitions Rookie of the Week accolades. The freshman posted a .950 save percentage and 1.50 goals against average in the two-game series.

Vermont vs. Boston University/Merrimack - Fri. 2/2 at BU; Sun. 2/4 at UVM
- Vermont (8-16-4, 5-11-3 WHEA) broke a three-game slide over the weekend as the Catamounts defeated Northeastern in both games of a two-game home stand. The Catamounts downed the Huskies, 5-2, on Friday and followed it up by edging them out 4-3 on Saturday with just over eleven seconds left to play in regulation.
- Eve-Audrey Picard (Longueuil, Que.) had a big weekend for Vermont, tallying six points in the two wins. The sophomore found the back of the net five times, including the game winners in each of the games, and dished out one helper.
- Jim Plumer's team will look to take the last of a three game series with Boston University after going 0-2-0 in their previous contests and sweep its three-game series with Merrimack after taking four points in its first two tilts of the season.