Thursday, February 15, 2018
Women's Hockey East Weekend Preview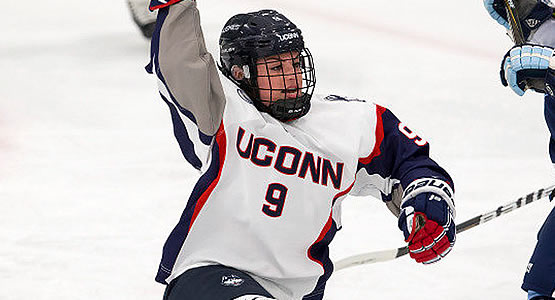 Merrimack vs. UConn - Fri. 2/16, Sat. 2/17 at UConn
- UConn (11-12-9, 5-11-6 WHEA) returns home for a pair of games against Merrimack (11-18-3, 6-14-2 WHEA) in the most crucial series of the final weekend of Women's Hockey East regular season play. The Huskies and Warriors will compete for the final playoff position in the WHEA Tournament, as the other seven spots have been secured. With three or more points, Merrimack will lock in its second-straight tournament appearance. If the Huskies earn two or more points, they will return to the WHEA Tournament for the 13th time in program history.
- UConn had its five-game unbeaten run snapped last weekend, going 0-1-1 at Vermont. The Catamounts took the first game, 1-0, while the second outing resulted in a 0-0 stalemate. Senior Annie Belanger (Sherbrooke, Que.) recorded her third shutout of the season, totaling 49 saves on the weekend, and allowing only one goal to backbone the Huskies and keep their playoff hopes alive.
- Merrimack junior forward Katelyn Rae (Courtice, Ont.) sits in sixth place in point scoring among league players and fourth place in goal scoring, with a 16-8-24 stat line this season. Rae has collected points in 12 of her last 14 games, compiling 15 goals and six assists in that span. She also has three game-winning goals and two game-winning assists in her last 10 outings.

#3 Boston College vs. #10 Maine - Fri. 2/16, Sat. 2/17 at Maine
- The third-ranked Eagles (26-3-3, 17-2-3 WHEA) travel to 10th-ranked Maine (17-10-5, 11-7-4 WHEA) to conclude the programs' regular season schedule. The Eagles recently defeated Boston University in the Beanpot Championship on Tuesday in overtime, 4-3, to claim their eighth Beanpot title in program history.
- The two nationally ranked met once earlier this season, as Boston College defeated Maine at Conte Forum, 7-2, in October. The victory was highlighted by two goals and two assists from Eagles' freshman Daryl Watts (Toronto, Ont.), who currently owns a 39-36-75 stat line to lead the nation in goals and points. Watts, who has 29 goals and 22 assists in WHEA play, is just one goal, three helpers, and four points shy of tying the all-time single-season records in league regular-season play.
- Maine needs just one victory to set a new program record for victories in a single season, both in WHEA play and overall. The Black Bears boast an overall record of 17-10-5 and are 11-7-4 in conference games. In the 2011-12 season, Maine matched its program-best 17 overall wins (2005-06) and won 11 WHEA games, the most ever for the school.
- Maine's 11 wins in league games are more than the program's overall victories since the 2011-12 slate.
- Boston College has secured the top seed in the WHEA Tournament for the fifth time in program history while Maine has locked up home ice in the quarterfinals. The Black Bears can finish as high as second in the final Army ROTC WHEA standings. They have never finished higher than third (2002-03, 2003-04).

Northeastern vs. Vermont/Providence - Fri. 2/16 at NU, Sun. 2/18 at PC
- The Catamounts (10-17-5, 7-12-4 WHEA) head to Boston for one game against the Northeastern (14-15-3, 10-10-2 WHEA) on Friday. The Catamounts have the upper hand in this season's series, defeating the Huskies at home in late January. Sophomore Eve-Audrey Picard (Longueuil, Que.) notched two goals and an assist to take the first game, 5-2. The following day she netted a hat trick, as well as the game-winning goal, to lead the Catamounts to a 4-3 win and weekend sweep.
- Northeastern senior defenseman Lauren Kelly (Watertown, Mass.) is the first Huskies defender since Kim Greene in 2002-2003 to score double-digit goals in a season.
- Northeastern currently sits fifth, and Vermont in sixth in the Women's Hockey East standings, both clinching playoffs spots next weekend. Each school is battling for playoff position, as Northeastern remains alive for a spot hosting in the quarterfinals while Vermont can finish anywhere from sixth through eighth. With a win, Vermont can secure a finish no lower than seventh.
- Providence (15-11-7, 11-7-5 WHEA) hosts Northeastern for a single game Sunday, sitting in second place in the Army ROTC WHEA standings after a 1-0-1 weekend in two overtime tilts against Maine. The Friars have secured home ice in the quarterfinals but not final seeding position for the WHEA Tournament. Sitting just one point ahead of Maine, Providence could finish as high as second or as low as fourth pending this weekend's results.

Boston University vs. New Hampshire - Sat. 2/17 at UNH, Sun. 2/18 at BU
- A home-and-home series between New Hampshire (14-11-7, 9-8-5 WHEA) and Boston University (11-15-6, 6-11-5 WHEA) will have large playoff implications, determining home ice for New Hampshire and Northeastern as well as the Terriers' seeding from sixth to eighth.
- BU senior Victoria Bach (Milton, Ont.) scored her 100th career goal on Tuesday in the Beanpot final, becoming the first Terrier to reach the 100-career-tallies mark.
- New Hampshire is coming off of a 2-1 victory over #3 Boston College last Friday. Freshman goaltender Ava Boutilier (Charlottetown, P.E.I) recorded 34 saves and earned WHEA Defensive Player of the Week for her efforts.
- New Hampshire has not finished in the top four since 2012-13 and has not advanced out of the quarterfinal round since 2009-10.