Thursday, January 4, 2018
Women's Hockey East Weekend Preview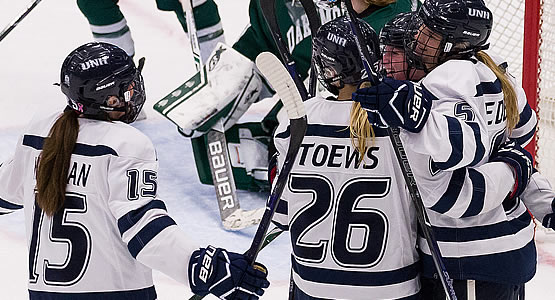 New Hampshire and Boston College battle in a home-and-home series this weekend.
New Hampshire vs. #2 Boston College - Fri. 1/5 at BC, Sun. 1/7 at UNH
- The Eagles (16-1-3, 10-0-3 WHEA), will host the first game of a home-and-home series against Hockey East foe New Hampshire (9-6-5, 6-3-3 WHEA) beginning on Friday and will face off again Sunday with New Hampshire's turn on home ice.
- The Eagles are 8-0-1 at home this season, and currently have a 10-game unbeaten streak overall, remaining undefeated in the conference.
- Daryl Watts (Toronto, Ont.) currently leads the nation with 52 points, (24g, 28a).
- The Wildcats and Eagles have met 72 times in their program history, and the Wildcats hold the advantage, 46-21-5, but more recently the Eagles have won the last 10 match ups against their Hockey East rival.
- UNH junior goaltender Kyra Smith (Littleton, Colo.), started her first two games of the season in December, making 29 saves in an overtime victory against Northeastern as well as 22 saves in her first shutout of the year against UConn. She has been named Hockey East Defensive Player of the Week after both weekends she started for the Wildcats.

UConn vs. Merrimack/Northeastern - Fri. 1/5 at MC, Tue. 1/9 at NU
- The Huskies (5-7-7, 0-6-4 WHEA) will travel to Merrimack (6-13-3, 1-9-2 WHEA) on Friday, playing their first of three games against the Warriors this season. The last time these Hockey East teams met, they split a weekend series on Jan. 6-7, 2017
- UConn and Merrimack currently sit tied for eighth in the Hockey East standings as the Huskies looking for their first win in conference play this season. The two programs each have four points in league play, four behind seventh-place Vermont. The top eight teams in the conference make the playoffs.
- UConn goes back on the road Tuesday to Boston to face Northeastern (10-9-2, 6-6-1 WHEA) and November WHEA Goaltender of the Month, Aerin Frankel (Briarcliff Manor, N.Y.). Frankel ranks 13th in the nation with a 1.93 GAA and sixth nationally with a .940 save percentage.

Maine vs. Boston University - Sat. 1/6, Sun. 1/7 at BU
- A weekend series at Boston University (7-10-4, 3-7-3 WHEA) will kick off Saturday, as Maine (12-6-3, 6-3-2 WHEA) looks to extend its six-game unbeaten streak.
- Maine's 12 wins are the most for the program since the 2011-12 season when the Black Bears went 17-11-6. It is just the sixth time since the inception of Women's Hockey East that Maine has won 12 or more games and the Black Bears have only won more than 12 games three times (2004-05, 2005-6, 2011-12).
- Last time these two teams went head to head, Maine took a 4-2 win on Oct. 20 after jumping out to a 3-0 lead against the Terriers.
- The remaining Terriers' schedule consists of 11 conference games and two Beanpot tilts. Of the guaranteed opponents four currently have records of .500 or above in Women's Hockey East play with a combined 26-13-8 mark. The remaining three are just 4-23-8 in conference games.

#10 Providence vs. Vermont - Sat. 1/6, Sun. 1/7 at UVM
- Hockey East Pro Ambitions Rookie of the Month Maureen Murphy (Buffalo, N.Y.) and the Friars (12-5-4, 8-1-2 WHEA) travel to Vermont (5-12-3, 3-8-2 WHEA) as Providence begins a stretch of six of its next seven games on the road. Murphy currently leads her team with 13 goals and the Friars are 10-1-1 when she tabs a goal or an assist.
- Vermont had an early start to the second half of the season, playing three exhibition games in Quebec, Canada against a trio of Canadian Universities Dec. 29-31 and earning three victories. Mackenzie MacNeil (Richmond Hill, Ont.) was named this week's Women's Hockey East Player of the Week after scoring three goals and two assists in an 8-2 win over Ryerson.

UConn vs. Brown - Sat. 1/6 at UConn
- The Huskies have a busy week, playing three games in five days and five games in eight days. Five of UConn's next six are on the road before defending Storrs for a five-game home stand.
- Natalie Snodgrass (Eagan, Minn.) continues to pace the UConn offense with 11 goals and 20 points. The rookie most recently scored a goal and added an assist in the Huskies' recent 5-2 win at Dartmouth, earning Pro Ambitions Rookie of the Week accolades.
- Brown (2-14-0) is currently 0-2-0 when playing Hockey East teams this year. Boston University and Providence both defeated Brown by two goals when they faced the Ivy League school.