Thursday, January 25, 2018
Women's Hockey East Weekend Preview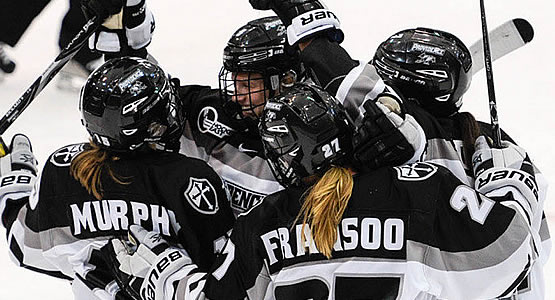 A battle of the top two teams in Hockey East kicks off Friday as the #10 Friars (14-7-6, 10-3-4 WHEA) are set for a home-and-home with the #2 Eagles (22-2-3, 15-1-3 WHEA)
#10 Providence vs. #2 Boston College - Fri. 1/26 at BC, Sat. 1/27 at PC
- A battle of the top two teams in Hockey East kicks off Friday as the #10 Friars (14-7-6, 10-3-4 WHEA) are set for a home-and-home with the #2 Eagles (22-2-3, 15-1-3 WHEA).
- These programs have met once already this season, a 7-4 Eagles win on Nov. 3. The programs rank first and second in WHEA in scoring offense (BC - 4.26, PC - 3.41), with offenses paced by the Eagles' Daryl Watts (Toronto, Ont.) and Friars' Maureen Murphy (Buffalo, N.Y.).
- Boston College can clinch the 2017-18 Women's Hockey East regular season title this weekend with a sweep of Providence and a Maine loss. The Eagles are seeking their fifth consecutive regular season trophy to move into a tie with New Hampshire for the most all-time. Their four consecutive titles are already the longest such streak of any program.
- Eagles goaltender Katie Burt (Lynn, Mass.) is just one win away from moving into a tie as the all-time wins leader in NCAA play, with 113 victories between the pipes for Boston College. Bury also currently sits second all-time in career minutes in Women's Hockey East play with 4582:49 of work. The senior netminder is just 91:05 behind current leader and former Boston College netminder, Molly Schaus. With two starts this weekend, Burt will claim the all-time mark. She is also just 28 saves away from cracking the top-10 in career saves in league play with 1,579 stops to date.

#9 Maine vs. UConn - Fri. 1/26, Sat. 1/27 at UConn
- The Black Bears (16-7-3, 10-4-2 WHEA) hit the road for two-game series at UConn (7-11-8, 1-10-5) beginning Friday. Maine was home for two games, going 1-1-0 against Merrimack, snapping their five-game winning streak and 10-game unbeaten streak (8-0-2). Black Bear goaltender Carly Jackson (Amherst, N.S.) currently leads all backstops in Women's Hockey East with a 1.76 goals against average and sits second in both save percentage (.929) and winning percentage (.733).
- The Huskies continue a five-game home stand after tying Boston University, 2-2, last Sunday in their annual Skating Strides game. UConn boasts a 4-2-7 record at home while skating to a 3-9-1 mark on the road.
- In the most recent meeting between Maine and UConn, the Black Bears took a 4-3 overtime win on Nov. 12. UConn has tied five Hockey East schools so far this season, two short of tying for most in a single-season in program history. The Huskies have taken 10 total games into overtime this year, going 1-1-8 in those tilts.

Northeastern vs. Vermont - Fri. 1/26, Sat. 1/27 at UVM
- Northeastern (13-10-3, 9-7-2 WHEA) heads to Gutterson Fieldhouse to play Vermont (6-16-4, 3-11-3 WHEA) for the first time this season. Northeastern is 4-1-1 in its last six but just 4-6-1 in 11 road games this season. Seven of their last eight contests this year will come on the road, with just a Feb. 16 home game against the Catamounts left on the schedule.
- Last season the Catamounts went unbeaten against the Huskies, taking a 2-0-1 mark over Northeastern. Prior 2016-17, Northeastern was riding an eight-game unbeaten streak against Vermont.
- Vermont netminder Sydney Scobee (Minnetrista, Minn.) stopped 77 shots for the Catamounts last weekend at Boston College, including her third game with at least 40 saves on Sunday.
- Northeastern junior goaltender Brittany Bugalski (Boynton Beach, Fla.) earned her 50th career win last Friday in the Huskies' 5-3 victory over UConn, becoming just the fourth netminder in program history to win at least 50 games.
- The Huskies' McKenna Brand (Nevis, Minn.) tallied an assist in both games last week to extend her point streak to 10 games (5g, 12a).
- Senior Denisa Krizova (Horni Cerekev, Czech Republic) moved into sole possession of sixth place among the highest scorers in NU history with 160 career points after notching two goals last week. Krizova needs 13 more points to pass 2002 Patty Kazmaier Award winner Brooke Whitney for fifth.

Boston University vs. Merrimack - Thu. 1/25 at MC, Sat. 1/27 at BU
- The Terriers (8-13-6, 4-10-5 WHEA) meet the Warriors (9-15-3, 4-11-2 WHEA) meet for the second time this year Thursday after clashing in a season- opening game on Sept. 23. Merrimack took that contest, just the second win against the Terriers in program history, 2-1. Overall, BU owns a 5-2-0 record against Merrimack.
- Boston University sits in sixth place in Hockey East standings after two ties against Northeastern and UConn this past week. Jesse Compher (Northbrook, Ill.) and Deziray De Sousa (Montreal, Que.) each recorded a goal to help lead the Terriers in a 2-2 draw against UConn after falling to a two-goal deficit.
- BU senior forward Victoria Bach (Milton, Ont.) scored with just 3.3 seconds left in the game to record her fourth hat trick of the year and force overtime against Northeastern on Jan. 16. It was Bach's 93rd career tally, the most of any Terrier in history, and her 65th strike in league play. Her 65 markers are the most of any active WHEA player and 24 more than the next-highest total (Denisa Krizova, 41).
- Merrimack junior forward Katelyn Rae (Courtice, Ont.) potted all five of the Warriors' goals last weekend, including a four-score game in a 4-2 win on Saturday. Rae became just the fourth Women's Hockey East skater to score four goals in one league game, including the third to accomplish the feat since January. Prior to the 2018 calendar year, only one skater had scored four goals in a game in conference play (Casey Pickett, Northeastern, 11/3/12 vs. UConn).

New Hampshire vs. Quinnipiac - Fri. 1/26, Sat. 1/27 at QU
- The Wildcats ride a three-game unbeaten streak after snapping a four-game skid and are set for a five-game road swing.
- New Hampshire picked up a 1-0-1 record against #10 Providence this past weekend, thanks in large part to the play of rookie goaltender Ava Boutilier (Charlottetown, P.E.I.). The freshman backstop kicked out 49 of 51 shots in two games against the Friars and earned her first career shutout with a 22- save performance on Jan. 20. She was named this week's Women's Hockey East Defensive Player of the Week for her efforts.
- Quinnipiac (13-11-2) is 3-3-1 against Hockey East rivals this season. This is the first time this year they will face the Wildcats.