Thursday, January 18, 2018
Women's Hockey East Weekend Preview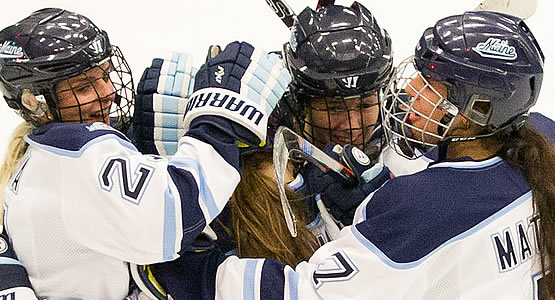 Maine hosts Merrimack for a pair of games this weekend
#9 Maine vs. Merrimack - Fri. 1/19, Sat. 1/20 at Maine
- The Black Bears (15-6-3, 9-3-2 WHEA) host a pair of games against Merrimack (8-14-3, 3-10-2 WHEA) this weekend, looking to continue their four-game win streak and nine-game unbeaten streak alive. After a win against Merrimack, 5-1, Jan. 13, Maine currently sits third in the Army ROTC Women's Hockey East standings and has broken into the top-10 rankings for their second consecutive week.
- Maine's 15 wins are the second-most in program history, trailing just the 2011-12 and 2005-06 seasons when the Black Bears claimed 17 victories.
- Maine's offense features a pair of 20-point-getters already, including Tereza Vanisova (Strakonice, Czech Republic/13g, 24a) and Brooke Stacey (Kahnawake, Que./9g, 14a). Vanisova's 37 points puts the sophomore eighth in national scoring among full-time Division I players.
- Merrimack's Katelyn Rae (Courtice, Ont.) scored her fifth goal of the season last weekend and now leads her team with 18 points.
- Warriors goaltender Samantha Ridgewell (Outlook, Saskatchewan), currently has a .928 overall save percentage, the best among all league goaltenders. Meanwhile, Maine netminder Carly Jackson (Amherst, N.S.) tops the league with a 1.78 overall goals against average.

#7 Providence vs. New Hampshire - Fri. 1/19, Sat. 1/20 at UNH
- The seventh-ranked Friars (14-6-5, 10-2-3 WHEA) travel to New Hampshire (10-10-5, 7-7-3) for a weekend series against the Wildcats. The two programs last met Nov. 22, a 3-0 Providence victory.
- Providence freshman forward Maureen Murphy (Buffalo, N.Y.), a three-time league award recipient, scored the first hat trick of her collegiate career in the Friar's 6-3 win at Boston University on Saturday.
- The Friars are 5-1-2 in their last eight outings and have scored four or more goals in four of those contests.
- Friday marks the 150th meeting of New Hampshire and Providence, one of the oldest rivalries in women's college hockey. The Wildcats own an 80-55-14 record in the all-time series.
- New Hampshire freshman goaltender Ava Boutilier (Charlottetown, Prince Edward Island) tied her career-high with 39 saves in a 3-1 win against UConn on Jan. 14.

#2 Boston College vs. Vermont - Fri. 1/19, Sat. 1/20 at BC
- The Catamounts (6-14-4, 3-9-3 WHEA) trek down to Boston for a pair of games this weekend, facing another top ranked team and Hockey East foe in #2 Boston College (20-2-3, 13-1-3 WHEA). Last time Vermont faced a top-10 team, the Catamounts went 1-1-0 at #5 Minnesota. In a 4-1 victory, UVM freshman Alyssa Holmes (Burlington, Ont.) scored two goals and an added an assist to claim Pro Ambitions Rookie of the Week accolades for her efforts. The Catamounts also downed then-#3 Clarkson, 3-2, on Nov. 10.
- Boston College defenseman Toni Ann Miano (Bronx, N.Y.) became the first Eagle blueliner to record a hat trick Saturday afternoon as part of a four-goal outing. Miano potted her fourth goal of the day in overtime, securing a 5-4 win for her team. Her four-tally performance set the Women's Hockey East record for goals by a defenseman in a single game in a league play.
- Last time these two teams faced off the Eagles took a win, 4-2, at Vermont on Oct. 22. Sophomore forward Caitrin Lonergan (Roslindale, Mass.) powered the Eagles' offense with a hat trick in that outing.

UConn vs. Northeastern/Boston University - Fri. 1/19 at NU, Sun. 1/21 at UConn
- UConn (7-10-7, 1-9-4 WHEA) earned its first win in league play of 2017-18 with a 3-1 victory at New Hampshire on Jan. 13.
- Rookie Natalie Snodgrass (Eagan, Minn.) picked up a goal and an assist in the victory and now leads the Huskies with 13 goals, 10 assists and 23 points. UConn has not been led in scoring by a freshman since the 2011-12 season, when Snodgrass's sister, Emily Snodgrass, paced the Huskies with nine goals, 12 assists and 21 points in her rookie campaign.
- Husky senior forward Theresa Knutson (Onalaska, Wis.) scored the 45th goal of her career, the fourth-most of any UConn player in program history.
- Northeastern senior McKenna Brand (Nevis, Minn.) racked up six points (1g, 5a) in three games last week, recording her 100th collegiate point in the process. She became the 28th player in program history to reach the mark and earned Women's Hockey East Player of the Week honors for her efforts.
- UConn last played at Northeastern on Jan. 9, a 4-2 Northeastern win. Brand notched the game-winner and added an assist in the outing.
- Boston University (8-13-5, 4-10-4 WHEA) tied Northeastern on Tuesday night and will welcome UConn for the third and final tilt of 2017- 18. The Terriers are 1-0-1 against the Huskies this season.
- In Tuesday's 3-3 draw, Victoria Bach (Milton, Ont.) completed her fourth hat trick of the season with 3.3 seconds left in regulation to force overtime. Bach's three goals set a program record for the Terriers, bringing her career total to 93 tallies.