Thursday, January 11, 2018
Women's Hockey East Weekend Preview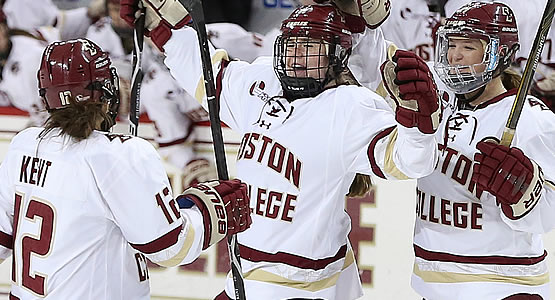 Boston College faces off against Northeastern in a home-and-home series starting o Friday afternoon at Kelley Rink
#2 Boston College vs. Northeastern/Harvard - Fri. 1/12 at BC, Sat. 1/13 at NU, Tue. 1/16 at BC
- Coming off of a 4-2 win Tuesday night against UConn, Northeastern (6-9-7, 0-8-4 WHEA) prepares for a quick turnaround to face #2 Boston College (18-1-3, 12-0-3 WHEA) on Friday night at Kelley Rink to kick off a home-and-home series.
- Last time these two Hockey East teams met, Boston College took a 7-3 home win on Nov. 28. Eagles' sophomore forward Caitrin Lonergan (Roslindale, Mass.), December's Women's Hockey East Player of the Month, collected a career-high five points, including a hat trick in the win. The Eagles continue to fly as they sit atop the Hockey East standings, and rank second in the nation, as they ride a 12-game unbeaten streak that includes six straight wins.
- Northeastern's McKenna Brand (Nevis, Minn.) notched two points on Tuesday to bring her career total to 98 points. With two more, she will become the 28th player in program history to reach the 100-point milestone. Denisa Krizova (Horni Cerekev, Czech Republic) is also closing in her own century mark after earning her 99th career assist on Tuesday. With one more assist, she will be just the fourth Husky in program history to reach 100 helpers.

Vermont vs. #5 Minnesota - Fri. 1/12, Sat. 1/13 at Minn.
- The Catamounts (5-13-4, 3-9-3 WHEA) hit the road for their final non-conference games of the season at #5 Minnesota. This will be the second time Minnesota faces a Hockey East team this season, as the Gophers went 1-1-0 against Merrimack on Sept. 29 - Oct. 1.
- Vermont is in the middle of a stretch of six games against nationally ranked programs, traveling to Hockey East rival #2 Boston College next weekend after hosting Providence for a pair of games Jan. 6-7.
- The Catamounts most recently tied #7 Providence, 1-1, at home last weekend. Saana Valkama (Pirkkala, Finland) netted her fourth goal of the season for the Catamounts in the draw.
- When leading after two periods, the Gophers currently sit 13-0-1 and are 16-5-2 overall.

Boston University vs. #7 Providence/Northeastern - Fri. 1/12 at BU, Sat. 1/13 at PC, Tue. 1/16 at NU
- Providence (13-5-5, 9-1-3 WHEA) continues to climb in the national rankings, moving up to seventh after a win and a tie against Vermont last weekend to push its unbeaten streak to six games (4-0-2).
- Boston University (7-12-4, 3-9-3 WHEA) hosts first in a home-and-home series against the Friars, welcoming December's Hockey East Pro Ambitions Rookie of the Month Maureen Murphy (Buffalo, N.Y.) on Friday. Murphy paces her team with 14 goals and the Friars are 10-1-2 when Murphy notches a point.
- The Terriers and Friars clashed in a single outing on Dec. 9, a 6-4 Providence win. Boston University's Victoria Bach (Milton, Ont.) scored two goals to spark a comeback attempt that saw the Terriers net a pair of power-play tallies in the 1:34 to make it a one-goal game.

#10 Maine vs. Merrimack - Sat. 1/13 at MC
- The Black Bears (14-6-3, 8-3-2 WHEA) are riding a three-game win streak and an eight-game unbeaten streak, lifting them to the #10 ranking in the national polls. This marks the first week this season that they have made it into a national ranking.
- Maine travels down to face Merrimack (8-13-3, 14-3-9 WHEA), who recently beat New Hampshire 4-2, for a single game on Saturday before the Black Bears host the Warriors for a two-game set next weekend. These two programs have yet to meet this season and Maine holds a 4-2-0 record over the Warriors in the all-time series.
- The Warriors' Katelyn Rae (Courtice, Ont.) posted her second straight multi-point game, picking up three points from New Hampshire in Tuesday's win.
- Maine's Carly Jackson (Amherst, N.S.), was tabbed WHEA Defensive Player of the Week for last week's sweep over Boston University. Those two wins helped Maine move up to third place in the Hockey East standings and gave the Black Bears eight league wins on the season, just the fifth time they have eclipsed the seven-win mark.

UConn vs. New Hampshire - Sat. 1/13, Sun. 1/14 at UNH
- The Huskies (6-7-9, 0-8-4 WHEA) will look to get their first league win this season, traveling to New Hampshire (9-9-5, 6-6-3 WHEA) for a pair of games beginning on Saturday.
- The Wildcats suffered a 4-2 loss at Merrimack Tuesday and are on a three-game skid. New Hampshire's next four games, all in league play, will come against Hockey East teams on home ice at the Whittemore Center.
- The Huskies hosted New Hampshire at home on Dec. 8. New Hampshire netminder Kyra Smith (Littleton, Colo.) held her own, recording a 27-save shutout in just her second game of the season in goal. She was named WHEA Defensive Player of the Week for her efforts.