Thursday, November 9, 2017
Women's Hockey East Weekend Preview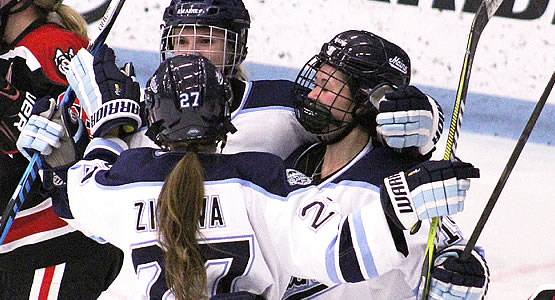 Maine hosts Providence and UConn this weekend
#2 Boston College vs. #8 St. Lawrence - Fri. 11/10, Sat. 11/11 at SLU
- The #2 Eagles will travel to New York for a weekend series against #8 St. Lawrence University to face their third ranked opponent on the year. Previously, the Eagles have swept then-#4 Minnesota Duluth on Oct. 5-6 and downed #9 Providence last weekend.
- On Monday, Caitrin Lonergan (Roslindale, Mass./3g, 2a) received Hockey East Co-Player of the Week honors while Daryl Watts (Toronto, Ont./2g, 4a) was selected as the Pro Ambitions Rookie of the Week. The two Eagles rank first and second in the country in scoring with 23 and 27 points, respectively.
- Boston College (8-0-1, 4-0-1 WHEA) has skated against St. Lawrence each season since 2007-08 and holds an all-time record of 17-11-4 over the Skating Saints. The two last clashed in the 2017 NCAA semifinals, a 6-0 Eagles win at Conte Forum.

Northeastern vs. Merrimack - Fri. 11/10 at NU, Sat. 11/11 at MC
- Merrimack will host the first tilt of a home-and-home series with Northeastern beginning Saturday. All time, the Huskies hold a 5-1-0 record against the Warriors, including a 2-1-0 mark in 2016-17.
- Northeastern was last defeated by Maine on Tuesday, 4-2. Matti Hartman (Etna, N.H.) and Veronika Pettey (Potomac, Md.) scored for the Huskies in the setback.
- Merrimack comes off a 1-1-0 weekend, splitting a series at Union. Freshman Courtney Maud (Georgetown, Ont.) scored the game-winner in Friday's 5-3 victory, her first career goal, and followed up with an empty-netter to seal the win.

UConn vs. Boston University/Maine - Fri. 11/10 at BU, Sun. 11/12 at ME
- The Huskies hit the road for two games against separate Hockey East foes, still looking for their first win of the season in league play.
- Reining Hockey East Defensive Player of the Week Morgan Fisher (Vernon, Conn.) and the rest of the UConn Huskies travel to play Boston University for their second meeting of the season at Walter Brown Arena. Last time UConn faced BU, the Terriers came out on top, 6-2, on Oct. 22.
- Boston University comes off a split at home against RIT. Rookie netminder Corrine Schroeder (Elm Creek, Man.) allowed just three goals, one on a penalty shot, to post a .933 save percentage and a 1.50 GAA over the weekend, which ranked third and second, respectively, among all NCAA freshman goaltenders over the weekend.

#9 Providence vs. Maine - Fri. 11/10 at ME
- #9 Providence travels to Orono for a single game on Friday night, backed by Madison Myers (Colchester, Vt.), who earned the honor of Hockey East Goaltender of the Month. Myers took the Friars into the national rankings by posting a 6-2-2 record, including a 3-0-0 start to the year. #9 Providence is currently 6-3-2 overall, and 3-1-0 in the conference.
- The Friars have topped the Black Bears in each of their last four meetings, dating back to Jan. 31, 2016.
- The Black Bears most recently down Northeastern for the third consecutive time. Maine took the victory led by two goals from Catherine Tufts (Church Point, N.S.), who opened and closed the scoring in a 4-2 triumph.

New Hampshire vs. #4 Colgate - Fri. 11/10, Sat. 11/11 at UNH
- New Hampshire wraps a six-game home stand this weekend, welcoming #4 Colgate for a two-game series. Prior to this weekend, the Raiders and Wildcats have met 11 times, with New Hampshire boasting a 7-4-0 mark in the all-time matchup.
- Last weekend, the 'Cats went 1-0-1, tying and defeating Vermont in two games at home. Ellie Sasaki (Markham, Ont.), scored her first career goal and her first career multi-point game (1g, 1a) in the series.
- Taylor Wenczkowski (Rochester, N.H.) currently has the longest active point streak among all Wildcats players, with seven points 5g, 5a) in her last six games.
- New Hampshire sophomore Carlee Turner (Scottsdale, Ariz.) earned Hockey East Co-Player of the Week accolades on Monday for her performance against the Vermont Catamounts, tallying three goals and two assists in a 1-0-1 weekend. The three points in league play helped New Hampshire stay at the top of the league standings through its first eight conference contests (6-1-3, 4-1-3 WHEA).

Vermont vs. #3 Clarkson - Fri. 11/10 at UVM, Sat. 11/11 at Clarkson
- Vermont returns home after weekend in New Hampshire with a 0-1-1 record against the Wildcats, putting the Catamounts in third place in the league standings (3-4-1 WHEA).
- MacKenzie MacNeil (Richmond Hill, Ont.) scored a goal in each game for Vermont, improving her point total to seven on the year with four goals and three assists. The Catamounts are now 4-6-1 overall, and 3-4-1 in conference play.