Thursday, November 30, 2017
Women's Hockey East Weekend Preview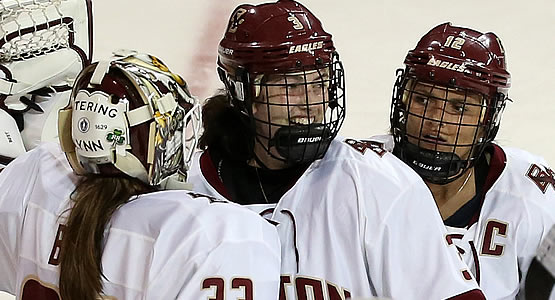 The Boston College Eagles and Boston University Terriers meet for the 50th and 51st times in the Battle of Comm. Ave this weekend.
#2 Boston College vs. Boston University - Fri. 12/1 at BC, Sat. 12/2 at BU
- The Boston College Eagles and Boston University Terriers meet for the 50th and 51st times in the Battle of Comm. Ave this weekend, clashing in a home-and-home series on opposite ends of Commonwealth Avenue. This iteration will feature the top four point-getters in NCAA hockey, including Boston College's Daryl Watts (Toronto, Ont./17g, 23a) and Caitrin Lonergan (Roslindale, Mass./18g, 20a) and Boston University's Victoria Bach (Milton, Ont./17g, 14a) and Rebecca Leslie (Ottawa, Ont./12g, 15a).
- The Eagles are just one win away from claiming their 200th victory in Women's Hockey East regular season play after downing Northeastern, 7-3, on Tuesday evening. Boston College is set to become the first program in league history to win 200 games within the conference.
- Boston University's Bach has been named the Women's Hockey East Player of the Week each of the past two weeks as she racked up 10 goals and 12 points across two weekends of play. On Tuesday, she recorded five more points (2g, 3a) in a 6-4 win over Brown and netted the game-winning goal. Riding a six-game point streak (12g, 6a), Bach is now third in the country in scoring on the season with 31 points (17g, 14a) behind only Watts and Lonergan.

#10 Providence vs. UConn - Fri. 12/1 at UConn, Sat. 12/2 at PC
- Providence suffered its first series sweep of the season last week, dropping back-toback games to then-#8 Cornell. The Friars return to Women's Hockey East play for the for 16 of their remaining 17 contests. The one non-conference game comes against Brown in the Mayor's Cup on Jan. 2, 2018.
- UConn took two ties in the standings last weekend as hosts of the Nutmeg Classic, but earned valuable tournament experience in the annual event that features in-state rivals Yale and Quinnipiac.
- Pro Ambitions Rookie of the Week Natalie Snodgrass (Eagan, Minn.) sent the Huskies to the championship game of the Connecticut tournament for the first time since 2009 with a shootout winner against Penn State in the opening round. The freshman then scored both of UConn's two goals in the title contest, a 2-2 draw with Quinnipiac. The Bobcats took the tournament title in the shootout round.

Northeastern at New Hampshire - Fri. 12/1 at UNH, Sun. 12/3 at NU
- The Northeastern Huskies wrap up play in 2017 with a two-game set with New Hampshire this weekend before enjoying a break until Jan. 9, 2018.
- Last weekend the Huskies emerged as the only undefeated team from the DI in DC event, as rookie goaltender Aerin Frankel (Briarcliff Manor, N.Y.) backboned her squad to a win against then-undefeated #1 Wisconsin with a 39-save performance before a Denisa Krížová (Horni Cerekev, Czech Republic) hat trick propelled NU past Minnesota State, 6-1. Krížová's hat trick was the third of her career.
- On Tuesday against Boston College, Krizova registered her 96th career assist, passing current New Hampshire head coach Hilary Witt for fourth place on Northeastern's career assist leader board.
- New Hampshire looks to end a six-game winless skid, dating back to Nov. 10. The Wildcats are 0-4-2 in that span.

Vermont at Maine - Sat. 12/2, Sun. 12/3 at Maine
- Vermont and Maine will play each other three times in a row beginning with a two-game set at Maine Friday and Saturday and wrapping on Dec. 9 at Vermont. Vermont then returns to the ice on Dec. 29 in Montreal, Quebec for a three-game tournament while Maine will be off until Jan. 6, 2018.
- Maine boasts a record of 5-1-2 in its last eight games, including wins over league foes Northeastern and UConn. The Black Bears currently sit at 4-3-1 in league play, just two points out of third place in the conference standings.
- Maine sophomore Tereza Vanišová (Strakonice, Czech Republic) has recorded a point in 12 of the 17 games in which she has appeared this season, factoring in on six of the Black Bears' 10 game-winning goals. When she scores at least one point, Maine boasts a record of 9-1-2 while her squad is just 1-5-0 when she's held off the score sheet, including a loss in which she did not dress. Additionally, Maine is undefeated (4-0-1) in games in which Vanišová finds the back of the net.