Thursday, November 2, 2017
Women's Hockey East Weekend Preview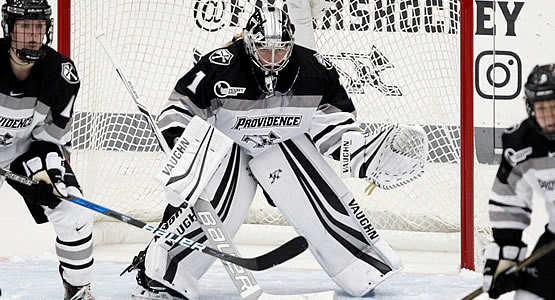 #9 Providence has moved into the national Top-10 and will travel to #2 Boston College on Friday
#2 Boston College vs. #9 Providence/Syracuse - Fri. 11/3 at BC, Sat. 11/4 at SU
- Boston College freshman Daryl Watts (Toronto, Ont.) collected a wheelbarrow of awards this week, as she was named Pro Ambitions Rookie of the Week, Women's Hockey East Player of the Month, Pro Ambitions Rookie of the Month and National Player and Rookie of the Month. Watts will face off with reigning Hockey East Defensive Player of the Week and WHEA Goaltender of the Month Madison Myers (Colchester, Vt.) in a showdown of the final two undefeated teams in Women's Hockey East on Friday.
- Providence is coming off of a two-game sweep in a home-and-home series against Northeastern, including the Friars' first win over the Huskies since 2014.
- Boston College also won two league games last weekend, defeating Boston University, 4-3, and Maine, 7-2. Katie Burt (Lynn, Mass.) made a career-high 43 saves against the Terriers, to set a Hockey East career wins record. She now has 54 career wins in regular season league play.

Vermont vs. New Hampshire - Fri. 11/3, Sat. 11/4 at UNH
- Vermont added two wins to their record (4-5-0) after sweeping Merrimack on the road last weekend. Taylor Flaherty (Lakeville, Minn.) scored one goal in both games against the Warriors to power the Catamount offense. The last time Vermont faced UNH, Flaherty scored one goal and chipped in one assist in a 5-4 overtime loss on Oct. 20.
- New Hampshire retains first place in the Women's Hockey East standings this week, as their record improved to 3-1-2 in conference play (5-1-2 overall). Last weekend, the Wildcats went 1-0-1, defeating Maine, 2-1, and tied Boston University, 2-2, at home. They will continue a six-game home stand for two tilts against Vermont.

UConn vs. RPI - Fri. 11/3, Sat. 11/4 at UConn
- The Huskies will host RPI for a two-game series after a bye week. Following the Huskies' 2-2 draw against then-#3 Boston College, senior goaltender Annie Belanger (Sherbrooke, Que.) earned Women's Hockey East Defensive Player of the Week honors for her 45-save outing and handing the Eagles their first non-win of the season.
- Belanger's career save percentage of .924 currently ranks first in program history.

Merrimack vs. Union - Fri. 11/3, Sat. 11/4 at Union
- Merrimack heads back into non-league competition for the penultimate time this season. After this weekend, the Warriors have just two non-conference games left on their schedule, a two-game home stand with Princeton on November 24-25.
- This season, Union has lost all four games played against Hockey East teams; A 7-3 loss to Providence (Sept. 29), a 7-0 setback to Vermont (Oct. 10), and two losses to UConn, 6-1 and 5-0 (Oct. 13-14).

Boston University vs. RIT - Fri. 11/3, Sat. 11/4 at BU
- The Terriers will head to New York to face Rochester in a two-game series this weekend. Last time out, Corinne Schroeder (Elm Creek, Man.) made a career-high 42 saves in a 2-2 draw against New Hampshire.
- Terrier alumna Tara Watchorn, a 2014 Olympic gold medalist who scored the game-winning goal in overtime to deliver Boston University its first Women's Hockey East Tournament title in 2010, was named an assistant coach to Brian Durocher this week. Watchorn is the first former Terrier to return to her alma mater as a full-time assistant coach.

Maine vs. Dartmouth - Sat. 11/4, Sun. 11/5 at Dartmouth
- Maine sets its sights on a two-game series at Dartmouth, after two setbacks to league rivals New Hampshire and then-#3 Boston College.
- Catherine Tufts (Church Point, N.S.), Lydia Murray (Sault Ste. Marie, Ont.) and Michelle Weis (Charlottenlund, Denmark), netted one goal apiece in the two road games last weekend.