Thursday, November 23, 2017
Women's Hockey East Weekend Preview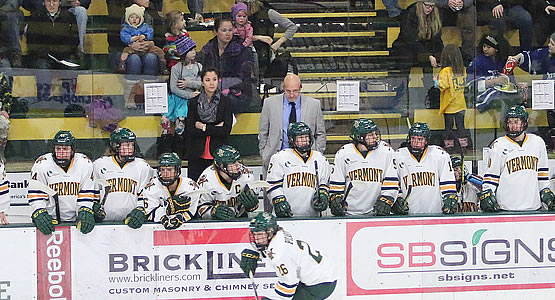 The Vermont Catamounts will host #2 Colgate and Minnesota Duluth this weekend in the third annual Windjammer Classic tournament in Burlington, Vermont.
Northeastern vs. #1 Wisconsin/Minnesota State - Fri. 11/24, Sat. 11/25 at Kettler Iceplex
- Northeastern travels to the nation's capital to participate in a tournament featuring #1 Wisconsin, Minnesota State and fellow Women's Hockey East member Boston University. The tournament is hosted by Wisconsin in an effort to grow the game of women's hockey on a national level.
- The Huskies draw the top-ranked Badgers in the first round of the tournament, who are undefeated on the season at 16-0-0. Northeastern has not beaten the number one team in the country since Jan. 5, 2001 against Dartmouth.
- All-time, Northeastern is 1-5-2 against Wisconsin. The two programs have not met since Nov. 15, 2013 in Vail, Colorado in one of the previous events put on by Wisconsin. The Huskies have never clashed with Minnesota State.

Boston University vs. Minnesota State/#1 Wisconsin - Fri. 11/24, Sat. 11/25 at Kettler Iceplex
- The Terriers join Northeastern in Washington, D.C., first squaring off with Minnesota State before facing the nation's number one program in Wisconsin.
- Boston University is winless in five outings against the Badgers, including three regular season contests and two neutral site games, including the 2011 national championship contest.
- The teams last met on March 14, 2015, when reigning Hockey East Player of the Week Victoria Bach (Milton, Ont.) netted the Terriers' lone goal in a 5-1 setback.
- BU has previously defeated the top-ranked program, topping then-No. 1 Boston College, 4-1, in the Women's Hockey East Tournament title game on March 8, 2015.

Vermont vs. RIT/#2 Colgate or Minnesota Duluth - Fri. 11/24, Sat. 11/25 at UVM
- The Vermont Catamounts will host #2 Colgate and Minnesota Duluth this weekend in the third annual Windjammer Classic tournament in Burlington, Vermont. Vermont is looking to end a three-game skid, after splitting a weekend with then-#3 Clarkson and two setbacks to BU.
- Following the two non-conference games, Vermont faces league rival Maine for three consecutive games Dec. 2, 3 and 9.

#10 Providence vs. #8 Cornell - Sat. 11/25, Sun. 11/26 at PC
- Providence primes for a top-10 clash with Cornell this weekend, after shutting out Women's Hockey East foe New Hampshire Wednesday night, 3-0. Last season, the Friars split a weekend series at Cornell, taking a 2-0 win before dropping a 5-1 decision in game two.
- The Friars are now 5-1-3 in their last eight outings, their only loss coming against then-#2 Boston College on Nov. 3 (7-4).
- Providence boasts the 11th-best offense in the country this season, sending in 3.36 goals per game, while allowing just 2.14 goals against per outing.

Merrimack vs. Princeton - Fri. 11/24, Sat. 11/25 at MC
- Merrimack welcomes Princeton for a two-game set at Lawler rink, seeking its first win since Nov. 3. It marks the first time the Warriors and Tigers will meet in Division I Women's Ice Hockey.
- The two non-conference tilts will be Merrimack's final of the season, as the Warriors face only Women's Hockey East opponents for the remainder of their 15 games.

Maine vs. Union - Fri. 11/24, Sat. 11/25 at Union
- Maine comes welcomes Union to Alfond Arena this weekend, where the Black Bears are 5-2-1 on the year.
- Most recently, Maine traded a pair of shutouts at Northeastern, climbing to fifth place in the league table and just two points out of second.
- Maine boasts a 4-2-2 record against the Dutchwomen in their last six meetings, including a 3-0-1 mark at home the last two years.

UConn vs. Penn State/Quinnipiac or Yale - Fri. 11/24, Sat. 11/25 at UConn
- UConn will host the 14th annual Nutmeg Classic tournament this weekend, featuring state rivals Quinnipiac and Yale. Penn State rounds out the field of four teams. The Huskies have won four Nutmeg Classic titles in program history.
- The Huskies currently sit at 3-1-3 at home this season, including two draws against #3 Boston College.
- UConn boasts a winning record against all three teams in the tournament, including a 9-8-0 mark over Quinnipiac and a 9-4-1 record against Yale. All-time against Penn State, UConn carries a 3-0-1 record after a 1-0-1 series against the Nittany Lions last October.

New Hampshire vs. Harvard - Sat. 11/25 at Harvard
- New Hampshire caps off a two-game week at Harvard after falling at Providence on Wednesday night, a game that saw the meeting of two of the three programs that were then tied for second place in the conference standings entering the week (Northeastern).
- The Wildcats currently sit third (6-4-5) in the league standings after Wednesday's result and are 0-3-2 in their last five outings.
- New Hampshire and Harvard have met once per season each year since the 2009-10 season. New Hampshire is just 1-5-2 in that time, but won the last outing, a 3-2 overtime win at Harvard last season.