Thursday, November 16, 2017
Women's Hockey East Weekend Preview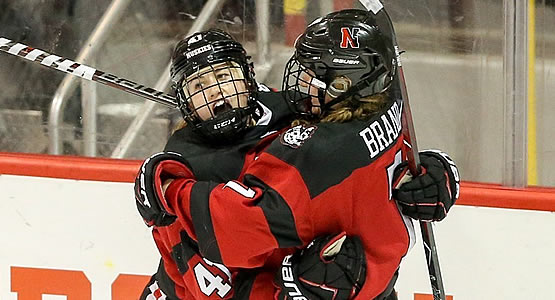 Northeastern hosts Maine for a pair of Women's Hockey East contests this weekend
#2 Boston College vs. UConn - Fri. 11/17 at BC, Sat. 11/18 at UConn
- The #2 Eagles will play their first home-and-home Hockey East series of the season this weekend against the UConn Huskies. UConn handed BC one of its two blemishes on an otherwise unbeaten season, skating to a 2-2 draw on Oct. 20 on the back of Annie Belanger's (Sherbrooke, Ont.) 45-save performance.
- Katie Burt (Lynn, Mass.) reached a career milestone of 100 wins in net last weekend, just the fourth women's NCAA goaltender to eclipse the century mark, after a 6-3 win on Saturday.
- The Eagles recently suffered their first loss of the year last Friday, 2-1, against then-#8 St. Lawrence. Makenna Newkirk (Scottsdale, Ariz.) and Willow Corson (Toronto, Ont.) both notched a pair of goals in the win against St. Lawrence.
- UConn dropped their first overtime game of the year to Maine, 4-3, last weekend after overcoming a two-goal deficit. Natalie Snodgrass (Eagan, Minn.) scored twice and Savannah Bouzide (Amherstburg, Ont.) notched her first career goal in the Huskies' effort to send it into overtime. The Huskies have now played five games that went into overtime this season, carrying a 1-3-1 record in those games.

#10 Providence vs. Merrimack - Fri. 11/17 at MC, Sat. 11/18 at PC
- Last time out, the Friars played to a 2-2 draw against Maine. Maureen Murphy (Buffalo, N.Y.) provided the two goals for the Friars. The Friars now hold a 6-3-3 overall record (3-1-1 WHEA) and are currently undefeated in three games at home.
- Merrimack went 0-1-1 with Northeastern last weekend, including a 1-1 draw on Sunday afternoon. The stalemate was highlighted by Mikayla Grant-Mentis's (Brampton, Ont.) third-period goal, her third of the year, to salvage a tie.

Boston University vs. Vermont - Fri. 11/17, Sat. 11/18 at UVM
- The Terriers hold a 28-7-8 all-time record against Vermont as Boston University travels to Burlington this weekend for a two-game set with the Catamounts.
- Vermont is unbeaten (1-0-2) in its last three outings against BU, including ties in each of the last two outings (Jan. 14, 3-3; Jan.15, 1-1).
- The Catamounts split a home-and-home with #3 Clarkson last weekend, earning the program's first-ever win against a top-three team. The Catamounts skated to a 3-2 home victory on Friday, led by reigning Hockey East Player of the Week Alyssa Gorecki (Monee, Ill.) and her two tallies. She now leads her team with 12 points (4g, 8a).
- Boston University's Victoria Bach (Milton, Ont.) registered a third-period assist on Friday, giving her a total of 100 career Hockey East points, the most among a Terrier that spent their entire career at BU. Bach is just the ninth player to reach 100 career league points.

Maine vs. Northeastern - Sat. 11/18, Sun. 11/19 at NU
- Last Tuesday, the Huskies and Black Bears played a single-game at Alfond Arena in Orono, where Maine earned its third straight victory over Northeastern, 4-3.
- Maine is now on a four-game unbeaten streak (3-0-1) after tying then-#9 Providence last Friday and downing UConn on Sunday in overtime, 4-3. Maine is looking to go on its first five-game unbeaten streak since the 2011-12 season when the Black Bears went 5-0-1 from Jan. 14 - Feb. 5.
- Freshman Michelle Weis (Charlottenlund, Den.) played hero for the Black Bears on Sunday, finding the back of the net just 35 seconds into overtime. Maine is now 5-2-1 at home, and haven't lost in Orono since Oct. 13 against then-#10 Robert Morris.
- The Huskies' Aerin Frankel (Briarcliff Manor, N.Y.) was named the Hockey East Defensive Player of the Week on Monday, after picking up a 19-save shutout against Merrimack in her first collegiate start. The next day, Frankel stopped 32 of 33 shots to tie the Warriors, 1-1.

New Hampshire vs. Rensselaer - Sat. 11/18, Sun. 11/19 at RPI
- The Wildcats will travel to Troy, New York for their sixth game against RPI in program history. New Hampshire currently holds a 4-0-1 record against the Engineers, with their last meeting coming on Oct. 17, 2015, a 2-1 Wildcats win.
- With a 5-1-2 record through the first seven weeks of the 2017-18 campaign, New Hampshire is off to its best start since 2010-2011.
- Last time out, the Wildcats saw their first two setbacks at home of the season, dropping each tilt of a two-game series against then-#4 Colgate by scores of 7-1 on Friday and 2-1 on Saturday. Nicole Dunbar (Coto de Caza, Calif.) and Carlee Turner (Scottsdale, Ariz.), were the lone goal-scorers in the series.
- Freshman goaltender Ava Boutilier (Charlottetown, P.E.I.), has started all 12 games for the Wildcats this season, carrying a 6-3-3 record. She currently sits third among all league goaltenders in overall goals against average, boasting a 2.13 number in 704:46 of work. Her .927 overall save percentage is also second among conference backstops who have played at least 500 minutes this year. four goals and three assists. The Catamounts are now 4-6-1 overall, and 3-4-1 in conference play.