2017-18 Skating Strides Schedule Unveiled
Season Slate Begins in October to Coincide With Breast Cancer Awareness Month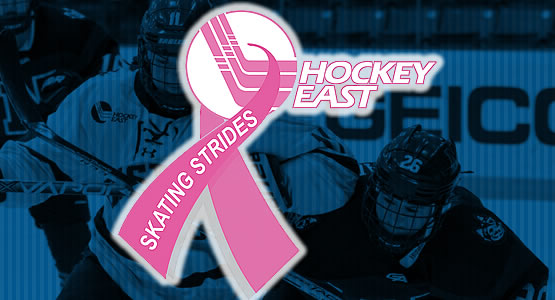 Season Slate Begins in October to Coincide With Breast Cancer Awareness Month
WAKEFIELD, Mass. – Hockey East Commissioner Joe Bertagna has announced the Hockey East Skating Strides schedule for 2017-18, the conference's fundraising vehicle to bring awareness to breast cancer and women's hockey. For the third consecutive season, all nine women's programs will host a designated Skating Strides game on campus, this year beginning in October to coincide with Breast Cancer Awareness Month. A full schedule can be found below.
"This initiative is one of the highlights of each season," said Bertagna. "It is the sort of thing we should be doing alongside the games and the competition and it is encouraging to see all of our schools engaged in a sincere and productive way. A great deal of credit should go to Associate Commissioner Kathy Wynters who makes it all happen."
Hockey East's Skating Strides program was honored in May 2016 by Massachusetts General Hospital Cancer Center at the one hundred, a fundraising and awareness initiative that honors those that have displayed a commitment to fighting cancer.
Founded in 2006, Skating Strides is entering its 12th season of existence, and has contributed nearly $400,000 to breast cancer organizations throughout New England through the Friends of Mel Foundation, including the Patrick Dempsey Center for Cancer Hope & Healing in Maine, the Gloria Gemma Foundation in Rhode Island, the Vermont Cancer Center, Necessities Bag and the Helen and Harry Gray Cancer Center in Connecticut, the Program for Young Women with Breast Cancer, the Ellie Fund and the Art of Living Life Beyond Cancer Conference in Massachusetts.
2017-18 Skating Strides Schedule

Date  
Away  
Home  
Time
Oct. 7  
New Hampshire  
Merrimack  
4pm
Oct. 27 *  
Boston College  
Providence  
7:15pm
Oct. 28  
Northeastern  
Providence  
2pm
Oct. 28  
Maine  
New Hampshire
 2pm
Oct. 29  
Maine  
Boston College  
2pm
Jan. 12 *  
Maine  
Northeastern  
7pm
Jan. 13  
Boston College  
Northeastern  
2pm
Jan. 13 *  
Merrimack  
Boston University  
7pm
Jan. 20  
Merrimack  
Maine  
2pm
Jan. 21  
Boston University  
UConn  
2pm
Jan. 26 *  
Boston College  
UMass Lowell  
7:15pm
Jan. 27  
Merrimack  
Boston University  
3pm
Feb. 3 *   
Providence   
Vermont   
7:05pm
Feb. 4  
Merrimack  
Vermont  
1pm
TBD*  
TBD  
UConn  
TBD
*men's game