Thursday, October 5, 2017
Women's Hockey East Weekend Preview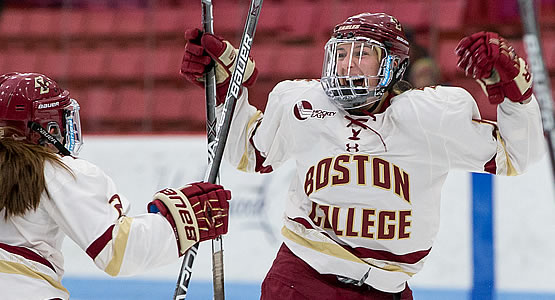 Boston College hosts #4 Minnesota Duluth on Thursday and Friday
#3 Boston College vs. #4 Minnesota Duluth – Thurs. 10/5, Fri. 10/6 at BC
- Ranked number three in the nation, Boston College will start its 2017-18 regular season off with a premiere two-game series at home against #4 Minnesota Duluth. Boston College defeated Laurentian, 6-0, two weeks ago in an exhibition game at Kelley Rink.
- Kenzie Kent (Norwell, Mass.) and Erin Connolly (South Boston, Mass.) each contributed a pair of goals, while the Eagles also got tallies from Daryl Watts (Toronto, Ont.) and Caitrin Lonergan (Roslindale, Mass.).
- Both teams are affected by the U.S. Women's Olympic Team, with the Eagles losing Kali Flanagan (Burlington, Mass.) and 2016-17 Hockey East Player of the Year Megan Keller (Farmington Hills, Mich.). Minnesota Duluth junior goaltender Maddie Rooney (Andover, Minn.) is also in residency with Team USA.

#8 Northeastern vs. Boston University - Fri. 10/6 at BU, Sat. 10/7 at NU
- Boston University will host the first game of a home-and-home series with Women's Hockey East rival #8 Northeastern on Friday before taking a trip across town to Matthews Arena on Saturday. The series is a rematch of the 2017 WHEA semifinals at Walter Brown Arena, a 2-1 Northeastern victory.
- Last time out, Northeastern took a 0-1-1 record at home against defending national champion Clarkson September 29-30. In 2016-17, the Huskies went 2-1-0 over the Terriers.
- Junior Reagan Rust (Southaven, Miss.) and Boston University enjoyed a bye week, after dropping the WHEA opener to Merrimack, 2-1. Rust scored the lone goal in the setback to the Warriors, marking the fourth consecutive time a newcomer to the Terriers squad to recorded a point in her BU debut.

Merrimack vs. New Hampshire - Fri. 10/6 at UNH, Sat. 10/7 at UNH
- The Wildcats 40th regular-season debut will begin this Friday against Hockey East rival Merrimack at the Whittemore Center. Last season, New Hampshire swept the Warriors, 3-0-0, including two victories in Durham.
- Seniors Amy Schlagel (Blaine, Minn.), and Julia Fedeski (Algonquin Highlands, Ont.), both tallied a goal in an exhibition win over Nepean last weekend.
- Reigning Women's Hockey East Player of the Week Lea-Kristine Demers (Repentigny, Que.) of Merrimack College helped the Warriors to a 4-3 road win last weekend at then-#3 Minnesota. Demers made 54 saves in the victory.

Vermont vs. UConn - Sat. 10/7 at UConn
- Val Caldwell (Glenview, Ill.) scored unassisted for her first collegiate goal this past weekend. Teammate Daria O'Neill (Cochrane, Alta.) followed up with a second period tally in a 6-2 loss at Providence to begin the Catamounts' WHEA slate.
- UConn returns home with a 1-0-1 record in a two-game road series at St. Cloud State.
- Rookie forward Natalie Snodgrass (Eagan, Minn.) tallied game one's decisive marker just 45 seconds into overtime to push the Huskies to victory, while Justine Fredette (Winnipeg, Man.) and Briana Colangelo (Whitby, Ont.) netted goals in Saturday's game two.

Maine vs. Rensselaer - Fri. 10/6, Sat. 10/7 at RPI
- Maine earned its first win over then-#9 Quinnipiac since 2011 on Saturday, taking a 4-2 victory at Alfond Arena.
- Rookie Michelle Weis (Charlottenlund, Denmark) helped the Black Bears to a weekend split with three assists for her first collegiate points. The 2016-17 Pro Ambitions Co-Rookie of the Year, Tereza Vanisova (Strankonice, Czech Republic), also picked up one goal and two assists in the win.

Providence vs. Quinnipiac - Fri. 10/6 at PC, Sat. 10/7 at QU
- The Friars are moving into this weekend sitting at 2-0-0 for the first time since 2009-10. Providence is most recently coming off a 6-2 win against league rival, Vermont.
- Last time out, six different Friars contributed to the high-scoring game against the Catamounts including Christina Putigna (Grismby, Ont.), who racked up eight points on the weekend. The junior notched two goals and six assists in the pair of wins.