Thursday, October 26, 2017
Women's Hockey East Weekend Preview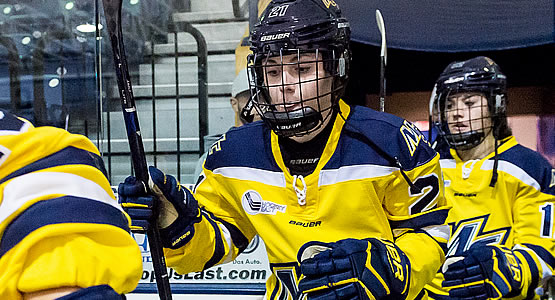 Merrimack hosts a pair of league games against VErmont this weekend
Boston Univ. vs. #3 Boston College/New Hampshire - Sat. 10/28 at BU, Sun. 10/29 at UNH
- The Comm. Ave Rivalry renews for 2017-18 Friday, as the #3 Boston Eagles will skate to defend their unbeaten overall record (4-0-1) at Boston University (1-4-0).
- Last time out for the Terriers, Rebecca Leslie (Toronto, Ont.) scored her second career hat trick as the Terries skated past Hockey East foe UConn, 6-2.
- BU ranks as the best in the country in power play percentage, and the Terriers went 3-for-5 on the power play against UConn to boast their percentage to 37.5%.
- Boston College senior goaltender Katie Burt (Lynn, Mass.) is one league win away from establishing a new all-time mark for wins in conference play. She currently sits tied for first with 52 victories in conference with New Hampshire's Melissa Bourdon (2003-07).
- Eagles rookie Daryl Watts (Toronto, Ont.) earned Pro Ambitions Rookie of the Week honors for her performance last weekend for Boston College. Watts led the nation in scoring this past week (3g, 6a) to power her team to a 2-0-1 week.

New Hampshire vs. Boston University/Maine - Sat. 10/28, Sun. 10/29 at UNH
- The Wildcats are set to host a pair of Hockey East rivals this weekend. New Hampshire welcomes Maine on Saturday for its annual Skating Strides game before taking on Boston University on Sunday. On Wednesday, the Wildcats suffered their first lost, 4-1, at #7 Northeastern. Sophomore Taylor Wenczkowski (Rochester, N.H.) scored her third of the year for the Wildcats, finding the back of the net for the second straight game.
- Meghara McManus (Milton, Mass). was tabbed Women's Hockey East Player of the Week after her eight-point performance last weekend. The sophomore powered the Wildcats to a 2-0-0 record over Vermont and Dartmouth with three goals and five assists.

Vermont vs. Merrimack- Fri. 10/27, Sat. 10/28 at MC
- The Catamounts will travel to Merrimack for a weekend series, in hopes to redeem themselves after losing two games to Hockey East foes, Boston College, 4-2, and UNH in overtime, 5-4, this past weekend.
- Vermont is currently 2-5-0 on the season, and 1-3-0 in Women's Hockey East play.
- Last trip out, Olivia Kilberg (Edina, Minn.) and Alyssa Gorecki (Monee, Ill.), each netted a goal in a 4-2 loss vs. Boston College. It was the first marker of Kilberg's career.
- Merrimack split a pair of overtime games against Penn State last weekend, taking a 2-1 win on Friday and a 4-3 setback the next day. Jessica Bonfe (Woodbury, Minn.), contributed a goal in each game against the Nittany Lions.

#7 Northeastern vs. Providence - Sat. 10/28 at PC, Sun. 10/29 at NU
- The Huskies and Friars are set to play a home-and-home series beginning Saturday, continuing a stretch of eight consecutive league games for Northeastern and beginning a seven-game league stand for Providence.
- Northeastern (5-3-1, 3-0-0 WHEA) most recently took two league points by handing New Hampshire (4-1-1, 2-1-1 WHEA) its first loss of the season, 4-1, thanks to two goals each from Denisa Krizova (Horni Cerekev, Czech Republic) and Kasidy Anderson (Shaker Heights, Ohio). Last weekend, the Huskies swept Syracuse with an explosion of offense. Eight different Huskies contributed to 10 goals in two games, including a pair from McKenna Brand (Nevis, Minn.) and Veronika Pettey (Potomac, Md.).
- Providence returns home after five consecutive road games and three straight overtime contests. The Friars are in a stretch where they will play nine of 10 games on the road before enjoying a four-game home stand Nov. 18-26.
- This Saturday will be their annual Skating Strides game, with all proceeds being donated to the Gloria Gemma Breast Cancer Resource Foundation

Maine vs. New Hampshire/Boston College- Sat. 10/28 at UNH, Sun. 10/29 at BC
- Maine takes the road this weekend for just the second time this season and for first time since Oct. 6-7. The Black Bears carry a 2-0-0 record away from Alfond Arena this year, downing Rensselaer twice. Both games can be seen on ESPN3.
- The Black Bears boast a 5-1-0 (1-0-0 WHEA) record today