Thursday, October 19, 2017
Women's Hockey East Weekend Preview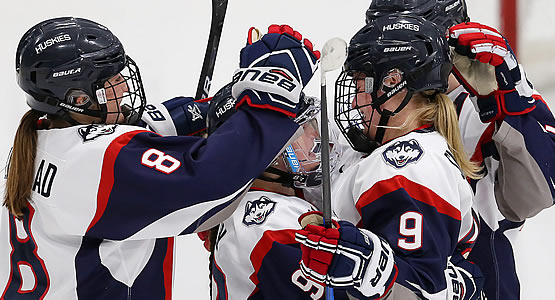 UConn faces off against Boston College and Boston University this weekend
#3 Boston College vs. UConn/Vermont - Fri. 10/20 at UConn, Sun. 10/22 at UVM
- #3 Boston College hits the road this weekend to face two Hockey East rivals in the Eagles' first two league tests of the 2017-18 season. Overall, Boston College has earned a 3-0-0 with two wins against Minnesota Duluth and a triumph over Quinnipiac.
- Last season, Boston College went a combined 5-0-1 against Vermont and UConn.
- The Huskies currently carry an all- time record of 14-28-8 against Boston College.
- Vermont is currently 2-3-0 on the season, including a 1-1-0 league mark, and most recently dropped two games at Quinnipiac. Val Caldwell (Glenview, Ill.) and Sammy Kolowrat (Prague, Czech Republic) both netted one goal last weekend.

#9 Northeastern vs. Syracuse - Fri. 10/20, Sat. 10/21 at Syracuse
- #9 Northeastern travels to Syracuse as the Orange are in the midst of a nine-game home stand. Syracuse most recently split a weekend series with Providence and will welcome Boston College on Nov. 4 to end a run of five consecutive games against Women's Hockey East opponents.
- The Huskies look for redemption in their return to New York after losing twice to then- #8 Colgate last weekend.

Boston University vs. Maine/UConn - Fri. 10/20 at Maine, 10/22 at BU
- Boston University welcomes UConn to Walter Brown Arena Sunday, still in search of its first win of 2017-18. In three games so far, all to league opponents, the Terriers carry a record of 0-3-0. Last season, BU split the combined series with UConn (1-2-0) and Maine (2-1-0), going 3-3-0 overall.
- The Huskies are coming off a weekend sweep of Union, topping the Dutchwomen twice at home. With a 3-2-0 record, UConn has outscored its opponents 15-6 this year, including dropping one-goal decisions in each of the two blemishes.
- The Maine Black Bears welcome Boston University to Orono on Friday afternoon, after their second weekend split with a ranked opponent with #10 Robert Morris. Rookie Daria Tereshkina (Chelyabinsk, Russia) registered her first three NCAA points in Saturday's 5-2 victory.

New Hampshire vs. Vermont/Dartmouth - Fri. 10/20 at Vermont, Sun. 10/22 at UNH
- New Hampshire looks to remain unbeaten (2-0-1) as the 'Cats face the Catamounts in Vermont on Friday and close out the weekend at home against in-state rival Dartmouth.
- Julia Fedeski (Algonquin Highlands, Ont.) leads the Wildcats with four points (3g, 1a) after notching two goals and an assist against Holy Cross last Saturday.
- The Catamounts (2-3-0) welcome UNH to Gutterson Fieldhouse having played just one game at home this season, a 7-0 triumph over Union. Ève-Audrey Picard (Longueuil, Que.) paces her team with five points on four goals and one assist, with all four goals coming against Union to set a single-game record. Providence vs. Princeton - Fri. 10/20, Sat. 10/21 at Princeton
- Providence travels to Princeton after a three-goal comeback to beat Syracuse, 3-2, in overtime last Saturday to split a weekend set. Sophomore Meaghan Rickard (Coventry, R.I.) scored two of the three goals against Syracuse in the win and two of her three tallies on the season proved to be game-winners.
- The Friars last squared off with Princeton Oct. 22-23 of last season, dropping the pair of games 4-2, and 7-3.

Merrimack vs. Penn State - Fri. 10/20, Sat. 10/21 at Merrimack
- Merrimack earned a point against then-#4 St. Lawrence last weekend, recording a 0-1-1 record on homecoming weekend at Lawler Rink. Goaltender Samantha Ridgewell (Outlook, Sask.) had a season-high 42 saves in a 0-0 draw in game two, earning her Women's Hockey East Defensive Player of the Week honors.
- This marks the first time in program history that Merrimack will host Big Ten opponent Penn State in North Andover, as the Warriors seek their first win since a 4-3 victory over then-#2 Minnesota on Sept. 29 (4-3).