Thursday, October 12, 2017
Women's Hockey East Weekend Preview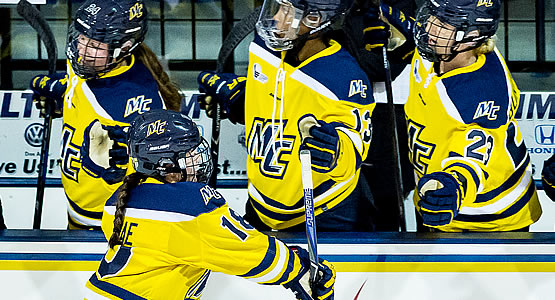 Merrimack hosts #4 St. Lawrence this weekend
Merrimack vs. #4 St. Lawrence - Fri. 10/13, Sat. 10/14 at MC
- Merrimack is in the middle of a seven-game home stand and welcomes #4 St. Lawrence to Lawler Rink for homecoming weekend.
- Madison Morey (Fairbanks, Alaska) was the lone goal scorer for Merrimack in a 3-1 setback to New Hampshire Saturday in the Warriors' annual Skating Strides Against Breast Cancer game. The day prior, Katelyn Rae (Courtice, Ont.) found the back of the net while shorthanded to earn a 1-1 draw with the Wildcats and keep Merrimack in second place in the league standings.

#6 Northeastern vs. #8 Colgate - Sat. 10/14, Sun. Oct. 15 at Colgate
- Reigning Pro Ambitions Rookie of the Week Veronika Pettey (Potomac, Md.) posted three points (1g, 2a) in the Huskies' 2-0-0 weekend against league rival Boston University, propelling her squad into first place in the Women's Hockey East table. Her assist on Friday set up the game-winning tally in overtime.
- The Huskies travel to Colgate for a two-game series beginning Saturday. The Northeastern offense will square up with Raiders netminder Liz Auby (Stoughton, Wis.), the ECAC Hockey Goaltender of the Week, who backstopped her team to back-to-back shutouts to open the year for the first time in program history. Auby is currently riding a 200:19 shutout streak dating back to last season.

Maine vs. #10 Robert Morris - Fri. 10/13, Sat. 10/14 at Maine
- Coming off a weekend sweep at RPI, Maine welcomes #10 Robert Morris to Alfond Arena for a two-game series. RMU is the second nationally ranked opponent to enter Orono this year after Maine went 1-1-0 with then-#9 Quinnipiac to open the year.
- Maine earned its pair of weekend wins at RPI thanks in part to Cailey Hutchinson's (Hicksville, N.Y.) game-winning goal at 5:49 of the third period to complete a 2-1 comeback win Friday and her two assists in game two's 3-2 victory.

Vermont vs. Quinnipiac - Fri. 10/13, Sat. 10/13 at QU
- Eve-Audrey Picard (Longueil, Que.) set a single-game record for the Catamounts, scoring four goals and her first career hat trick in a 7-0 victory over Union this past Tuesday. The four tallies were the most of any Vermont skater since the program began varsity competition and the win ran Vermont's streak to 21-straight victories over the Dutchwomen.
- Vermont next travels to Quinnipiac for a two-game set, continuing the Bobcats' stretch of seven consecutive games against Women's Hockey East opponents to open their 2017-18 season slate. To date, Quinnipiac is 2-2-0, splitting weekends at Maine and a home-and-home Providence.

Providence vs. Syracuse - Fri. 10/13, Sat. 10/14 at SU
- Madison Myers (Colchester, Vt.) stopped 19 shots in a 3-1 win at home and recorded 28 saves in the 1-0 road setback to Quinnipiac last weekend. It marked the first game the Friars were shutout since Dec. 3, 2016, against Boston College.
- The Friars last met Syracuse on Oct. 18, 2015, a 4-0 loss at home to the Orange.

UConn vs. Union - Fri. 10/13, Sat. 10/14 at UConn
- The Huskies continue their four-game home stand by hosting Union for two games this weekend. Last year, UConn swept the Dutchwomen, 5-1, and, 2-1. Union is looking to bounce back after its 7-0 lost at Vermont on Tuesday.
- UConn has received goals from four different players through its first three games. Leah Lum (Richmond, B.C.) leads the team with three points (1g, 2a).

New Hampshire vs. Holy Cross - Sat. 10/14 at UNH
- Ava Boutilier (Charlottetown, P.E.I.) received Hockey East Defensive Player of the Week honors for her 1-0-1 weekend record against Merrimack. Boutilier had 55 saves in her first two career outings earning a save percentage of .965.
- The Wildcats return home to the Whittemore Center for a meeting with future Hockey East foe Holy Cross. The Wildcats are the lone Hockey East program on the Crusaders' schedule this season before they join Women's Hockey East in 2018-19.