Thursday, September 28, 2017
Women's Hockey East Weekend Preview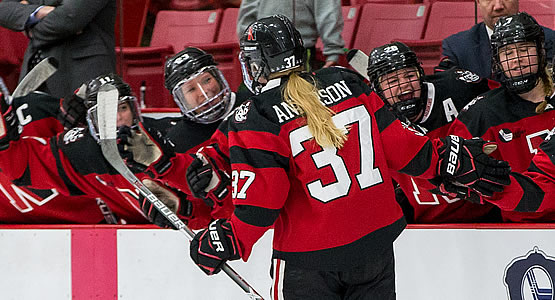 Northeastern hosts #1 Clarkson this weekend
#8 Northeastern vs. #1 Clarkson - Fri. 9/29, Sat. 9/30 at NU
- The eighth-ranked Huskies welcome in the defending national champion Clarkson Golden Knights to open the 2017-18 regular season at Matthews Arena. The two teams last met on Jan. 4, 2013 when Northeastern took a 4-3 road win over Clarkson.
- Northeastern took a 3-2 exhibition win over Concordia last Saturday. In the tilt, McKenna Brand (Nevis, Minn./2a) and recent transfer Tori Sullivan (West Bloomfield, Mich./1g, 1a) picked up two points each for the Huskies.

Merrimack vs. #3 Minnesota - Fri. 9/29, Sun. 10/1 at Minnesota
- The Merrimack Warriors took a 2-1 road win at Boston University in the first league game of the Women's Hockey East season last Saturday. Megan Fergusson (Kitchener, Ont.) scored the game-winning goal at 19:07 of the second period to lift her team to the first season-opening win in program history.
- Samantha Ridgewell (Outlook, Sask.) stopped 31 of 32 shots in the outing to pick up her first win of the year. The Warriors also claimed a 3-0 exhibition victory over the Whitby Wolves on Friday.
- Merrimack, sitting in first place in the league standings, travels to Minnesota for the first time in program history.

Providence vs. Union/Vermont - Fri. 9/29 at Union, Sun. 10/1 at PC
- The Friars' Meaghan Rickard (Coventry, R.I.) and Blair Parent (Blaine, Minn.) each recorded a goal and an assist to help Providence to a 3-2 win over Laurentian in an exhibition contest last week.
- Vermont and Providence met six times last season, including three playoff outings in the quarterfinal round. The Friars compiled a 1-0-2 record against the Catamounts in the 2016-17 regular season before falling in the three-game postseason series.

Vermont vs. McGill (ex)/Providence - Fri. 9/29 at UVM, Sun. 10/1 at PC
- Vermont skated to a 2-2 draw with Montreal on Sunday in the lone exhibition game on the day. Allie Granato (Plainville, Ill.) and Sammy Kolowrat (Prague, Czech Republic) each found the back of the net for the Catamounts.
- In last year's quarterfinal series victory over Providence, the Catamounts scored 14 goals in three games, coming back from a 0-1 series hole to advance in the Women's Hockey East Tournament. Vermont was 0-1-2 against the Friars in last year's regular season.

Maine vs. #9 Quinnipiac - Fri. 9/29, Sat. 9/30 at QU
- Maine skated to a convincing 9-0 exhibition victory over the Hockey Training Institute Stars on Friday at the Midcoast Recreation Center last weekend, highlighted by a trio of Black Bears registering four-point outings, including reigning Pro Ambitions Rookie of the Year Tereza Vanisova (Strakonice, Czech Republic/1g, 3a), Vendula Pribylova (Olomouc, Czech Republic/2g, 2a), and Michelle Weis (Charlottenlund, Denmark/2g, 2a).

UConn vs. St. Cloud - Fri. 9/29, Sat. 9/30 at St. Cloud
- UConn began its 2017-18 season with a 6-0 preseason win over Whitby Saturday. Leah Lum (Richmond, B.C.) scored two goals for UConn and Natalie Snodgrass (Eagan, Minn.) had a goal and an assist to lead the Huskies with two points apiece
- The Huskies travel to St. Cloud State for the first time ever to open up the 2017-18 regular season.

New Hampshire vs. Nepean (ex) - Fri. 9/29 at UNH
- New Hampshire women's hockey begins its 40th season on the ice Friday with an exhibition contest against Nepean.
- The Wildcats return 19 skaters from last year's team, including Julia Fedeski (Algonquin Highlands, Ont.), who ranked second on the team in 2016-17 in assists with 16 and third with 22 points.