Tuesday, September 26, 2017
2017-18 Women's Hockey East Composite Schedule Released
16th Season On Ice Culminates at Northeastern's Matthews Arena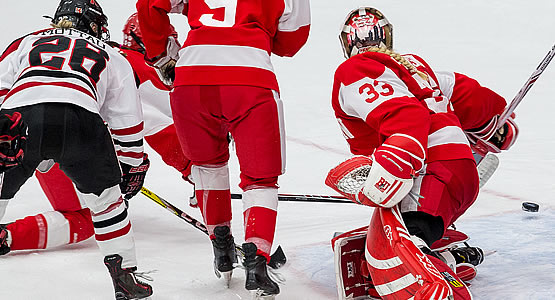 2017-18 Women's Hockey East Composite Schedule Released
WAKEFIELD, Mass. - The Hockey East Association unveiled the 2017-18 women's composite schedule today at the league's annual media day at TD Garden. Each of the nine member institutions will play 24 league contests as well as several featured non-conference tilts and tournaments. A full schedule can be found by clicking here.
Hockey East teams began play Friday, September 22 when four schools played in exhibition contest. Regular season play began Saturday, September 23 when Merrimack traveled to Boston University for the first league tilt of the new season. For all other schools Friday, September 29 marks the beginning of their campaigns with five regular season outings taking place across the conference.
Several special events highlight the season schedule in 2017-18, including the newest slate of the Skating Strides initiative and a mid-season tournament in Washington, D.C., when Boston University and Northeastern travel to the nation's capital to compete against Wisconsin and Minnesota State.
The Women's Hockey East season will culminate at Northeastern's historic Matthews Arena, with the 16th annual Women's Hockey East Tournament returning to the rink March 3-4. Information regarding tickets for the conference championship will come at a later date.