Friday, September 22, 2017
Women's Hockey East Weekend Preview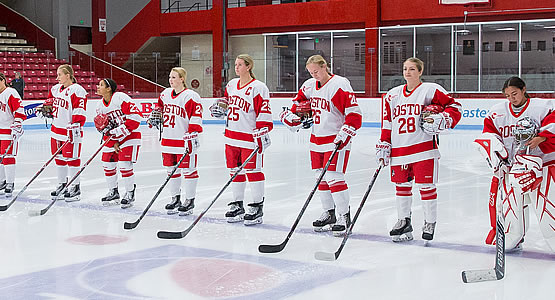 Boston University hosts Merrimack to kick off the 2017-18 Women's Hockey East season
Merrimack vs. Boston University - Sat. 9/23 at BU
- The Merrimack Warriors and Boston University Terriers kick off the 2017-18 Women's Hockey East season Saturday at Walter Brown Arena in the first of three contests between the two programs this year.
- BU also hosts Concordia in an exhibition contest Friday evening, while Merrimack welcomes the Whitby Wolves for a one-game tune-up.
- Last season, the Terriers took the first two games against the Warriors, 7-3 and 2-0, in a home-and-home series Nov. 18-19 before Merrimack downed BU on Jan. 28, 4-1.
- Merrimack advanced to the Women's Hockey East playoffs for the first time last year with 7-17-0 league record, while Boston University finished third (12-8-4) before bowing out in the semifinals to Northeastern.

#4 Boston College vs. Laurentian (ex) - Fri. 9/22 at BC
- Boston College kicks off its defense of the Women's Hockey East regular season and tournament titles with an exhibition against Laurentian. The Eagles finished on top of the league standings in 2016-17 with a 17-4-3 record before claiming their third Bertagna Trophy as tournament champions.
- The Eagles will be without defensemen Megan Keller (Farmington Hills, Mich.) and Kali Flanagan (Burlington, Mass.) for the duration of the campaign as both are in residency with USA Hockey's U.S. Women's Olympic Team in preparation for the 2018 Olympics in Pyeongchang, South Korea.

Maine vs. HTI Stars (ex) - Fri. 9/22 at Midcoast Recreation Center
- The Black Bears return to the ice in 2017-18 with an exhibition against the Hockey Training Institute Stars after missing the 2017 Women's Hockey East Tournament.
- Maine returns top scorer Brooke Stacey (Kahnawake, Que.) who had 28 points on 15 goals and 13 assists in 30 games last year

#8 Northeastern vs. Concordia (ex) - Sat. 9/23 at NU
- The Huskies return two players who scored at least 38 points last season in Denisa Krizova (Horni Cerekev, Czech Republic/18-27-45) and McKenna Brand (Nevis, Minn./23-15-38).
- In 2016-17, Northeastern wrapped the regular season with a 14-8-2 league record to finish second in the conference. Dave Flint's team fell in the championship game, 2-1, in overtime to Boston College.

Providence vs. Laurentian (ex) - Sat. 9/23 at PC
- Providence returns a potent defensive corps for 2017-18, including Katie Friesen (Altona, Man./11-14-25), 2017 Pro Ambitions Rookie of the Year Whitney Dove (Port Moody, B.C./5-18-23), Rachel Rockwell (Broadview Heights, Ohio/5- 14-19) and Avery Fransoo (North Battleford, Sask./1-16-17).
- The Friars also bring back 13 of their top 15 scorers from last season, including Brooke Boquist (Thunder Bay, Ont./18- 14-32), Christina Putigna (Grimsby, Ont./9-19-28), and Cassidy MacPherson (Oakville, Ont./10-13-23), who helped the team finish fourth in the league standings and aid head coach Bob Deraney in becoming the all-time wins leader among head coaches in Women's Hockey East play (154).

UConn vs. Whitby Wolves (ex) - Sat. 9/23 at UConn
- Top scorer Leah Lum (Richmond, B.C./18-11-29) returns as a senior on a Huskies team that finished 9-13-2 in league play in 2016-17. Lum is also joined by Briana Colangelo (Whitby, Ont./9-16-25), Theresa Knutson (Onalaska, Wis./10-9- 19), and Justine Fredette (Winnipeg, Man./5-11-16) to lead the UConn offense in 2017-18.
- UConn also gets back experienced goaltending in Annie Belanger (Sherbrooke, Que.) and Morgan Fisher (Vernon, Conn.)

Vermont vs. Montreal (ex) - Sun. 9/24 at UVM
- Vermont returned to the Women's Hockey East semifinals last season, falling to eventual champion Boston College, 4-3, in a double overtime thriller. Senior goaltender Madison Litchfield (Williston, Vt.) stopped 49 shots in the contest.
- The Catamount's top-three scorers from last year all suit up again in 2017-18, including sophomore Eve-Audrey Picard (Longueuil, Que./16-15-31) and juniors Alyssa Gorecki (Monee, Ill./13-12-25) and Saana Valkama (Pirkkala, Finland/7-17-24)