Seven Hockey East Alumni Named to U.S. Women's National Team
23-member Group Will Train for the 2018 Olympic Winter Games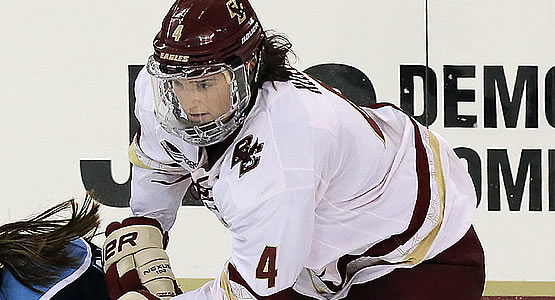 Megan Keller is one of seven Women's Hockey East alumni named to the U.S. Women's National Team
WAKEFIELD, Mass. - Seven Women's Hockey East alumni have been named to the U.S. Women's National Team as announced today by USA Hockey during a press conference live on NHL Network.
The seven players represent four different institutions, including Boston College's Alex Carpenter (North Reading, Mass.), Kali Flanagan (Burlington, Mass.), Megan Keller (Farmington Hills, Mich.), and Emily Pfalzer (Getzville, N.Y.), New Hampshire's Kacey Bellamy (Westfield, Mass.), Northeastern's Kendall Coyne (Palos Heights, Ill.), and Vermont's Amanda Pelkey (Montpelier, Vt.).
Bellamy is a two-time Olympian (2010, 2014), while Carpenter and Coyne were members of the 2014 Olympic team. Flanagan and Keller were both members of the 2016-17 Boston College team that won the Women's Hockey East regular season and tournament championships and appeared in the Frozen Four.
It was also announced today that starting in September, the players and staff for the 2017-18 U.S. Women's National Team will relocate to the Tampa area to train at Florida Hospital Center Ice in preparation for the 2018 Olympic Winter Games in PyeongChang, South Korea.
ABOUT HOCKEY EAST: The Women's Hockey East Association is a nine-team Division I women's league which began play in the 2002-03 season and an 11-team Division I college men's hockey conference founded in 1984. The women's league has sent 11 teams to the Frozen Four and 22 to the NCAA Tournament in its 15 seasons on the ice while boasting two Patty Kazmaier Award winners. The men's league has also won nine NCAA championships in the past 25 years. Since 1999, Hockey East has won seven NCAA championships in 15 NCAA Championship Game appearances and has placed 26 teams in the Frozen Four and 64 teams in the NCAA Tournament during that time.