Boston College Set to Host St. Lawrence In NCAA Quarterfinals
Eagles Captured Women's Hockey East Tournament Title to Earn Right to Host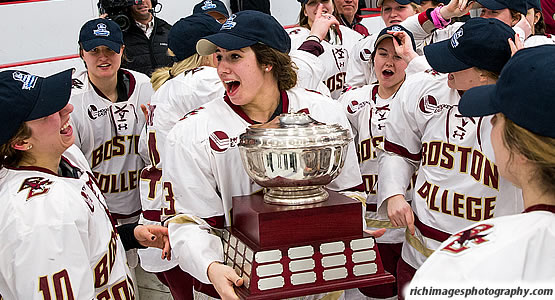 Eagles Captured Women's Hockey East Tournament Title to Earn Right to Host
WAKEFIELD, Mass. - Women's Hockey East regular season and tournament champion Boston College has earned the national number four seed and will host St. Lawrence in the NCAA Tournament quarterfinals Saturday (March 11) at 1 p.m. at Conte Forum, it was announced by the NCAA today.
The Eagles (27-5-5/16-4-3 HEA) earn a bid into the NCAA field for the ninth time in program history after claiming the school's third Women's Hockey East Tournament title. Women's Hockey East Player of the Year Megan Keller (Farmington Hills, Mich.) and WHEA Tournament MVP Andie Anastos (Farmington Hills, Mich.) will guide their team into the national quarterfinals after winning the program's second consecutive Bertagna Trophy and back into the NCAA quarterfinals.
Boston College is undefeated when hosting an NCAA quarterfinal contest, claiming victory in 2011, 2012, 2013, 2015 and 2016 and have moved on to the Frozen Four on six occasions. Most recently, the Eagles appeared in the 2016 National Championship game.
The NCAA quarterfinal round is set for Saturday, March 11, and the four winners advance to the 2017 Women's Frozen Four hosted by the St. Louis Sports Commission and Lindenwood University, March 17 and 19 at The Family Arena in St. Charles, Missouri. Semifinal games will be played at 5 p.m. and 8 p.m., Friday, March 17. The championship game is set to be played at 2 p.m., Sunday, March 19, and can be seen live on the Big Ten Network.