Boston College, Northeastern Set to Battle for 15th WHEA Title
Game to be Shown Live Across the Country on ASN, NESNplus, TSN GO in Canada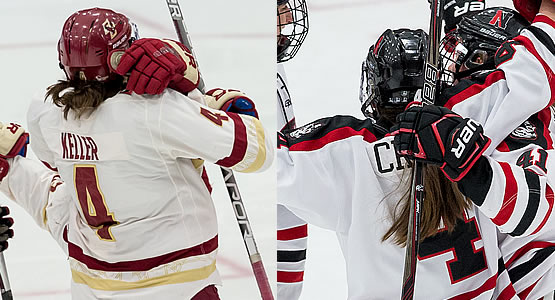 Boston College, Northeastern Set to Battle for 15th WHEA Title
BOSTON - The Women's Hockey East Association has announced the pairing of 2017 Women's Hockey East Tournament championship game, as #1 Boston College and #2 Northeastern will square off at Walter Brown Arena, Sunday, March 5 at 1:30 p.m. The title contest will be shown live across the country on American Sports Network affiliates, including NESNplus in New England, and can be streamed via TSN GO in Canada.
Hockey East regular-season champion and #1 Boston College (26-5-5/16-4-3 HEA) has advanced to the championship game each of the last four years, including winning the 2016 WHEA Tournament title. The Eagles downed #5 Vermont, 4-3, in a double overtime tilt that proved to be the 30th-longest game in NCAA women's hockey history with the game-winning goal finding the back of the net at 83:03. Historically, Boston College is 2-4 in the Women's Hockey East championship game, capturing the Bertagna Trophy first in 2011 before last year's victory.
#2 Northeastern (22-11-3/14-8-2 HEA) advanced to its first Women's Hockey East championship game since 2013 and is seeking the program's first-ever tournament title in its third overall appearance in the title game. Northeastern used two goals in the final 3:46 to topple #3 Boston University, 2-1, in the fourth straight semifinal between the schools.
In 2016-17, the Huskies are 1-2-1 against the Eagles including a 1-1-1 record in WHEA play and a 2-1 loss in the Beanpot title game. Historically in the WHEA playoffs, Boston College and Northeastern have met just twice previously. Boston College won the first WHEA Tournament title in program history over the Huskies in 2011 while Northeastern advanced past the Eagles in the 2013 semifinals.
Fans can purchase tickets online at Ticketmaster.com or by calling 800-745-3000 and start at just five dollars.