Thursday, February 9, 2017
Women's Hockey East Weekend Preview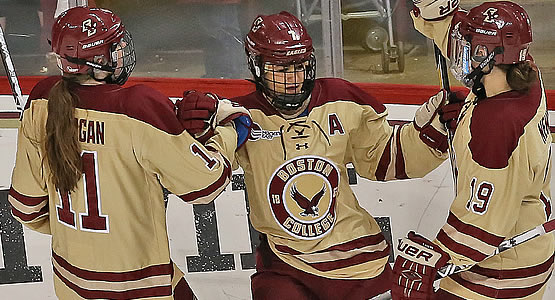 Boston College hosts two league games this weeekend
No. 6 Boston College vs. Northeastern/Vermont - Fri. 2/10, Sat. 2/12 at BC
- Newly crowned 2016-17 regular season champions and the 2017 Women's Beanpot Champions, the No. 6 Boston College Eagles (21-2-3/15-2-3 HEA) face off with the Northeastern Huskies (18-10- 3/13-7-3 HEA) at Conte forum. BC and NU sit comfortably in the one and two spots atop the playoffs entering the final two weekends of the regular season with a six-point buffer. Northeastern can clinch home ice in the quarterfinal with at least one point this weekend.
- The Eagles topped the Huskies earlier this week in a thrilling Beanpot final. The two have also faced off twice already in regular season play, with BC holding the edge going 1-0-1.
- Freshman defenseman Erin Connolly (South Boston, Mass.) was the hero of the Beanpot, netting her seventh goal of the season and the gamer winner to put BC ahead for good. Junior goaltender Katie Burt (Lynn, Mass.) made 19 saves in the contest and played a full 60 to backstop the Eagle's second Beanpot title in a row, and seventh all time.
- Sophomore netminder Brittany Bugalski (Boynton Beach, Fla.) made 22 saves on the night for the Huskies and was named the tournament's top goaltender and recipient of the Bertagna Award.

Providence vs. Vermont/Merrimack - Friday 2/10 at PC, Sun. 2/12 at MC
- Providence College (14-14-2/9-9-2 HEA) hosts Vermont (12-10-8/8-6-6 HEA) for the final regular season as the two programs vie for home ice in the WHEA quarterfinals, separated by just two points in the standings. The Friars will also face Merrimack (10-18-3/6-15-0) who are still in the hunt for the final playoff spot after a split series with Maine last weekend.
- Providence is coming off two close outings, dropping a 4-3 overtime decision to Northeastern on Feb. 3, then being edged by UConn 2-1 on Feb. 5. Friars junior forward Brooke Boquist (Thunder Bay, Ont.) netted a goal in each game to bring her point streak to four games.
- Vermont enters the weekend off a 1-0-1 series over UNH. Senior goaltender Madison Litchfield (Williston, Vt.) made 59 saves across the two games and now owns a .940 save percentage on the season as well as the all-time wins record by a UVM goaltender with 29 career victories.
- The Merrimack Warriors took a 7-2 win against Maine in the first of a two-game series last week, but dropped the game two despite a hat trick from sophomore Katelyn Rae (Courtice, Ont.). Merrimack seeks the program's first playoff appearance and sits one point ahead of Maine with three games remaining for both teams.

Boston University at New Hampshire - Fri. 2/10, Sat. 2/11
- Boston University (13-10-6/8-8-4 HEA) wraps the regular-season series against New Hampshire (11-15-2/9-9-2 HEA) with a home-and-home. Earlier this season, the Terriers took a 5-1 win from the Wildcats in Boston on Oct. 7.
- New Hampshire last skated in a 0-1-1 weekend against Vermont at the Whittemore Center. In a 3-3 tie Feb. 3, Wildcats senior forward Jonna Curtis (Elk River, Minn.) netted a shorthanded goal with just 3:51 left to bring UNH back from two down and secure a point in league play as New Hampshire battles to secure home ice in the WHEA playoffs.
- The Terriers enjoyed a week off from WHEA play, but competed in the Women's Beanpot consolation game against Harvard on Tuesday. A back and forth affair, including three-point performances from both senior forward Mary Parker (Milton, Mass.) and sophomore forward Victoria Bach (Milton, Ont.), ended the game in a 6-6 draw.
- BU and UNH are both locked in for playoff appearances, but are currently tied in fourth place, along with Providence.

UConn at Maine - Fri. 2/10, Sat. 2/11
- UConn (13-13-4/8-10-2 HEA) secured a playoff spot with a three-point week, earning a 4-4 tie with Boston College and later triumphing over Providence, while Maine (9-19-1/5-15-1 HEA) is fighting to clinch the final spot in the postseason.
- After a crucial two-game road trip with Merrimack last weekend, Maine earned a split with the Warriors as the two battle for the eighth and final playoff position thanks in part to senior forward Emilie Brigham's (Anoka, Minn.) three-point game (2g, 1a) in Saturday's 5-3 win.